The experts at EHP Labs created OxyShred, a cutting-edge and concentrated supplement. EHP Labs' Oxyshred is intended to launch a complex series of really effective operations that aid in your performance. Order yours today to discover out why this ground-breaking product has endured the test of time in terms of both popularity and flavour!
Key Features:
Supporting energy needs
Support your exercise objectives with a vitamin that makes you feel like you can do better.
When used in conjunction with the proper diet and exercise routine, support body composition
Increases Metabolism and Daily Calorie Burn.
Long-lasting energy with no crash.
Improves attention and reduces the moodiness and brain fog that are common during dieting.
Reduces hunger and cravings.
Calorie absorption is reduced.
Aids in the maintenance of a healthy immune system.
Natural Flavors Only.
There are no artificial colours.
The Oxyshred Ingredients.
An extensive combination of professionally tested substances found in Oxyshred work together to boost metabolism, elevate mood, clear brain fog, increase attention, eliminate cravings, kerb hunger, and burn fat. That seems like a lot for one product to accomplish! We'll quickly go through how each Oxyshred component contributes to these outstanding outcomes. The following are some of Oxyshred's main components:
Adenosyl L-Carnitine:
The above-mentioned mobilised fat is transported into the cell's mitochondria via Acetyl L-Carnitine, where it can be burned (oxidised) as energy.
L-Tyrosine:
will lift your spirits and aid in removing the cognitive fog and moodiness that come with calorie deficits.
Inulin Fibre:
A plant extract that aids in weight loss and increases your feeling of fullness throughout the day.
Caffeine:
Aids in increasing energy, focus, and calorie burning. As a side note, Oxyshred's caffeine/stimulant ratio hits a particularly sweet spot, making it very effective and pleasurable for people with varying levels of caffeine tolerance. If you have a lesser threshold for caffeine, Oxyshred won't give you a jittery, tense, or worried feeling; instead, it will give you a lovely, calm energy. If you have a higher tolerance to caffeine, the combination of caffeine and other stimulants will still offer you a visible energy boost and may give your adrenal glands a well-deserved vacation from other pre-workouts or fat burners that include a lot of stimulants.
Hydroxy Citric Acid:
prevents the body from storing carbohydrates as fat by preventing their absorption.
Extract from green coffee beans:
Will actively mobilise stored body fat into the bloodstream where it may be utilised for energy, helping to boost metabolism.
Conjugated Linoleic Acid: 
will make sure that the resistant regions you want to target, like the stomach and thighs, are where the stored fat you are mobilising comes from.
African wild mango:
Can aid in decreasing cravings and hunger by controlling leptin levels.
Directions
For General Fat Burning: Take 1 Scoop With Water In The Morning On An Empty Stomach At Least 1 Hour Before Food For Maximum Absorption And Fat Burning. You Can Take A Second-Half Or Full-Serve Around Lunch To Help You Power Through The Mid-Afternoon Slump.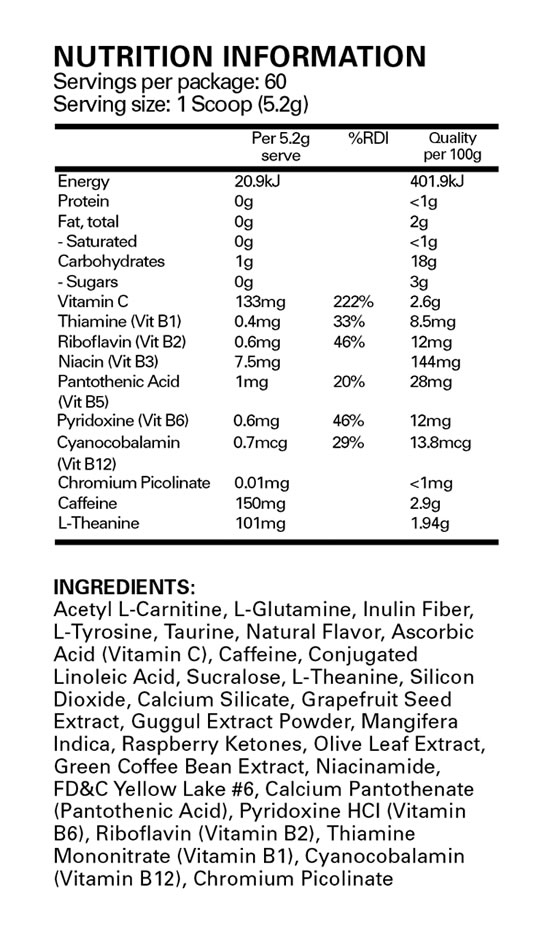 Customers who bought this product also bought: