All the deliciousness of a Mars Bar with less calories and
added protein!
Same chocolate coating and caramel snack but with 19g
protein per bar
Milk and whey protein complex for fast recovery
200 calories makes it perfect as a snack for dieters
Diverse array of protein sources to promote muscle recovery
Are you a fan of the unmistakable chewy centre, distinctive caramel and delicious chocolate in a Mars bar? Well now
you can have all the great taste you love with 19g of protein! The Mars Protein Bar contains just 200 calories and has the nutritional profile
you would expect from a leading protein bar, but with all the great taste of your favourite confectionery brand. The individually wrapped Mars
Protein Bars can be easily slipped into any gym bag as a post workout snack. If you're looking for a new and tasty way to enjoy protein, you'll
love these high protein bars! They give you an excuse to eat a chocolate bar without feeling too guilty.
Ingredients: Protein Blend (39%) (Hydrolysed Collagen, Soya Protein Isolate, Milk Protein Isolate, Skimmed Milk Powder, Whey Protein oncentrate (from Milk), Egg Albumen, Emulsifier (Soya Lecithin)), Caramel (16%), (Sweetened Condensed Skimmed Milk, lucose Syrup,
Invert Sugar Syrup, Palm Oil, Butter (from Milk), Sugar, Emulsifier (E471), Stabiliser (Pectin), Salt, Natural lavouring), Milk Chocolate (15%)
(Sugar, Cocoa Butter, Skimmed Milk Powder, Cocoa Mass, Lactose and Protein from Whey Milk), Palm Fat, Whey Powder (from Milk), Milk
Fat, Emulsifier (Soya Lecithin), Natural Vanilla Extract), Humectant Glycerol), Fructo-Oligosaccharide, Humectant (Maltitol), Flavourings,
Fat-Reduced Cocoa Powder, Barley Malt Extract, Salt. MAY CONTAIN: PEANUTS, ALMOND, HAZELNUTS AND PECAN NUTS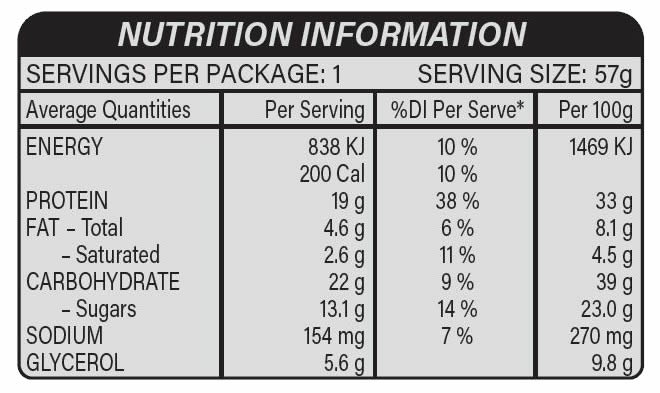 Customers who bought this product also bought: