GHOST BCAAs
Although traditionally taken during a workout or intense training session, GHOST® BCAA can be enjoyed around the clock as a phenomenal performance alternative to sugary sports drinks or juices.
Instantized for superior solubility
GHOST® Full Disclosure Label
All GHOST® products feature a 100% transparent label that fully discloses the dose of each active ingredient. Zero proprietary blends means you know what you're getting in each and every scoop.
BCAAs 6G
GHOST® BCAA delivers a massive 6G 2:1:1 BCAAs (3000MG Leucine, 1500MG Isoleucine and 1500MG Valine) per scoop.
Astragin®
Astragin® works to help improve your body's ability to absorb key amino acids, proteins and glucose...in other words, Astragin® ensures you're getting maximum benefit from every scoop of GHOST® BCAA.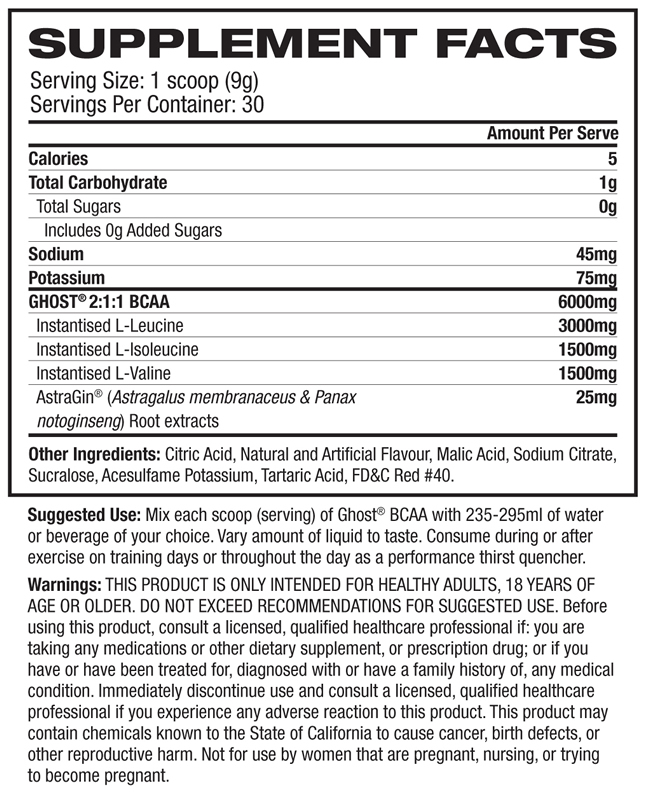 Customers who bought this product also bought: