GHOST LEGEND
GHOST LEGEND® combines a stand out energy and focus formula with premium pump ingredients to get you feeling like a legend whenever you need it most.
2x the actives in every scoop compared to "leading' brands
4g Pure L-Citrulline (Superior to Citrulline Malate)
2g Beta-Alanine, 500mg Agmatine, 100g Norvaline
237mg Total Caffeine, 50mg Citrus Aurantium
Industry First, Authentic Collabs
GHOST® Full Disclosure Label
All GHOST® products feature a 100% transparent label that fully discloses the dose of each active ingredient. Zero proprietary blends means you know what you're getting in each and every scoop.
L-Citrulline 4G
Citrulline is one of the best pump ingredients on the market. Most brands elect to stick Citrulline in a proprietary blend, under dose the compound or use 'Citrulline Malate,' which today is no more than a blend of L-Citrulline and Malic Acid, often in an undisclosed ratio. In fact, the 4 grams of L-Citrulline per scoop in GHOST Legend® is equivalent to the L-Citrulline content of 8 grams of Citrulline Malate!
Pure L-Citrulline may be more expensive, but provides better pumps without the potential for stomach discomfort caused by the additional acid.
Carnosyn® Beta Alanine 2G
The strongest clinical studies on Beta-Alanine point to 3.2G+ of Beta-Alanine per day and suggest achieving that in split dosages. For this reason, we've added 2G Beta-Alanine per scoop in GHOST Legend® pre workout AND 2G Beta-Alanine per scoop in GHOST® Size to ensure you're getting the full clinical dose every day...we've got your back legends.
Total Caffeine 202MG
165MG Caffeine Anhydrous + 37MG Caffeine delivered from 50mg of DiCaffeine Malate provides an awesome punch without the crash.
Agmatine Sulfate
Still taking L-Arginine for pumps? Think again...Agmatine (naturally created from Arginine) is the new pump king (especially when combined with Citrulline) and every scoop of GHOST Legend® is packing 500MG...long live the pump.
Alpha-GPC
Alpha-GPC is a natural nootropic that delivers some serious cognitive benefits. Having a ton of energy is great, but being able to channel that energy and actually focus during your workout, study sesh or when slaying your buddy in FIFA is just as important.
Rauwolfia
Often overlooked at the bottom of the supplement facts panel is Rauwolfia. With its weird name and 1MG dosage, it's probably useless right? Wrong. Every ingredient added to all of our products was thoughtfully included and Rauwolfia is no exception. This ingredient rounds out the stimulant side of GHOST Legend® with enhanced, long-lasting energy without the anxiousness sometimes caused by similar ingredients.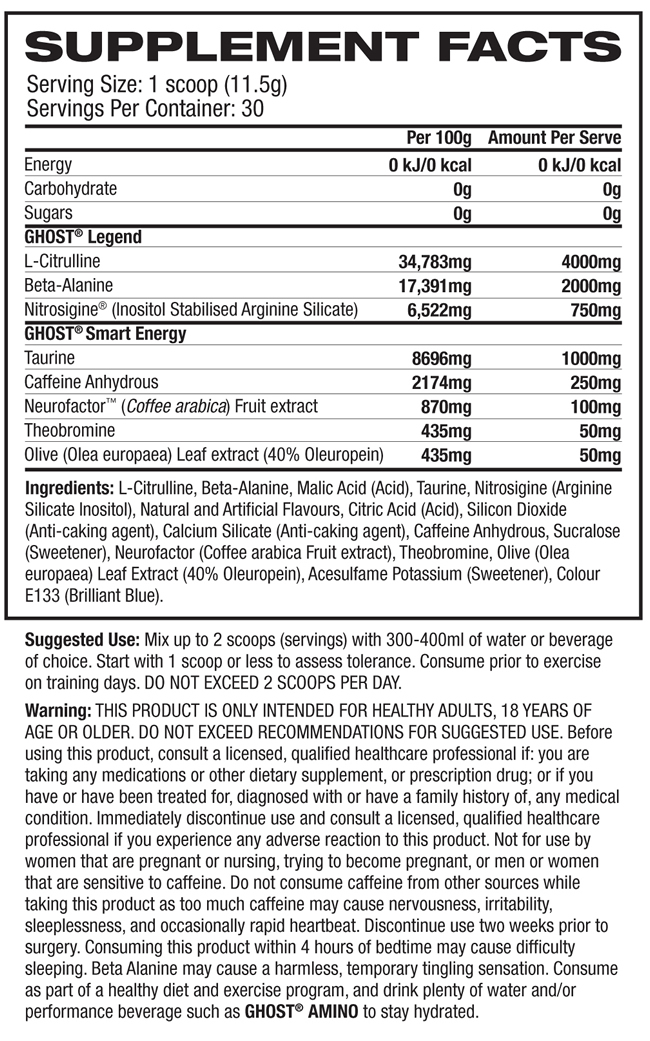 Customers who bought this product also bought: