Sleep Better, recover faster and turbo charge your muscle growth with EHP Labs new deep sleep formula, OxySleep. Formulated to ignite fat burning, support hormone health and maximise recovery while inducing a deep "Rapid Eye Movement (REM)" sleep. OxySleep is scientifically formulated with powerful ingredients combined to synergistically work on various metabolic, endocrine (hormone system) and neural functions in the body. OxySleep's non-stimulant formula assist in achieving a deep, restful sleep which is critically important for manipulating body composition and recovery, containing ZMA, Phenibut, 5-HTP and Valerian Root helping with regulating the sleep and wake cycles to promote REM deep sleep. When the body is in a state of REM sleep, the hypothalamus (section of the brain) is stimulated and triggers the area of the brain responsible for Human Growth Hormone (HGH) release. A peptide hormone, Human Growth Hormone (HGH) stimulates muscle growth, cell reproduction, and cell regeneration in the human body. OxySleep by EHP helps to increase HGH which boosts muscle strength, enhances fat loss and improve cognitive functions. Sleep tight and dream big with OxySleep, the perfect supplement to help propel your physique to the next level
OxySleep Benefits
Support restful sleep
Increase energy & focus
Lean muscle recovery
Improves R.E.M
Increase calming effects for improved ease of falling asleep and to support deeper sleep
Boost recovery
Advanced non-stimulant night time formula
Who can take OxySleep by EHP Labs:
OxySleep is perfect for both men and women whom struggle with fat loss, recovery time and achieving a deep, restful sleep. OxySleep will help your body burn fat while in a REM sleep, regulate sleep and wake cycles (circadian rhythms), maximise recovery and lean muscle growth. 
How to take OxySleep by EHP Labs:
We recommend mixing 1 scoop of OxySleep with 250mL chilled water and consume 15 minutes prior to bedtime. Ensure that you're ready to dive into bed once you have consumed OxySleep as you may feel relaxed and sleepy.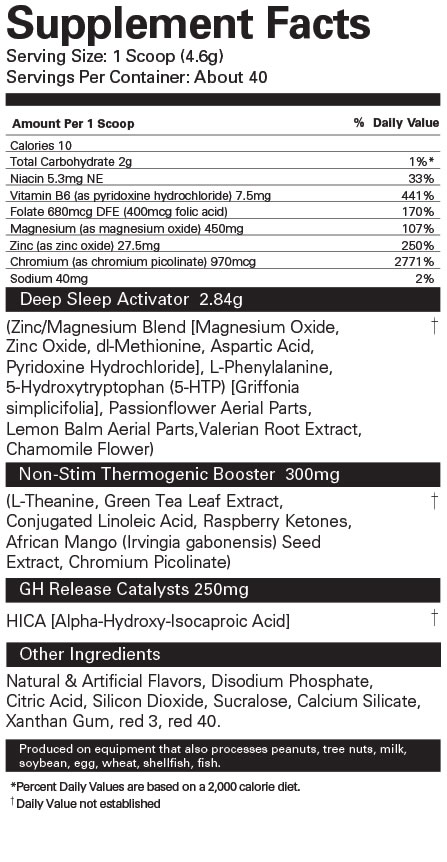 Customers who bought this product also bought: