X50 Broccoli Chips, new look, same great taste!
This ridiculously crunchy chip makes snacking easy. With fresh new packaging and now with fuller broccoli florets in each
pack, these will be flying off the shelves even quicker than before
(if that is even possible!)
Why everyone loves X50 Broccoli Chips.
• The fresh new look X50 Broccoli Chips contain a higher fibre content within the broccoli head which helps with satiety. Each
serve is now 11% of the recommended daily fibre intake for an average adult (per serve).
Carbohydrates and energy come from the more fibrous and dense broccoli florets and the retention of more rice bran oil in
the porous broccoli head. 70% of the carbohydrates are made up of complex carbohydrates and fibre.
Complex carbohydrates provide a slow release of energy over a prolonged period of time.
Rice bran oil is used as it has a great healthy fat profile. The more porous broccoli floret heads retain more of the rice bran oil
which gives us 6.9 grams of fats from Omega 3, Omega 6 and Monounsaturated (example per serve for BBQ flavour).
These healthy fats are needed in the body for a variety of functions including; cellular membrane structure, antiinflammatory
processes, balance of total cholesterol in the blood, healthy hair, skin, nails, mental focus, clarity, fat loss and
the all essential hormone production.
A healthy ratio of saturated, polyunsaturated and monounsaturated fats is needed for our bodies to function optimally.
Vacuum fried to help lock in nutrients.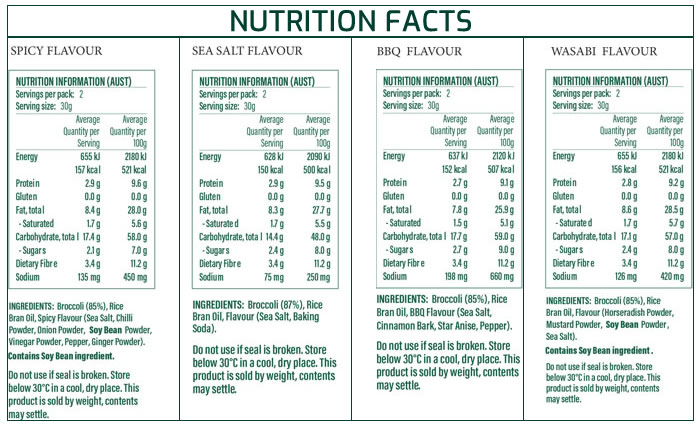 Customers who bought this product also bought: