It's no secret that if you're looking for fast results, you need fast recovery. And with the help of Xtend Pro Whey Isolate, building muscle, burning fat and recovering faster has been made all the more easier!
Containing zero grams of fat and only a few grams of carbs per serve, Xtend Pro Whey Isolate combines the benefits of BCAAs and premium whey protein to load your body with all of the goodness it requires to see serious results. With over 10 years' experience in designing cutting-edge Branched-Chain Amino Acid formulas for optimal recovery, Scivation is paving the way with their next game-changer - Xtend Pro Whey Isolate. Specifically engineered for results, Xtend Pro Whey Isolate is truly one of a kind!
Key Features & Benefits:
Zero sugar & fat
No artificial flavours - Naturally flavoured formula
Low calorie - Under 150 calories and a few grams of carbs per serve
Supports muscle recovery & growth - Combining the benefits of 7g of BCAAs with 25g of premium quality ultra-pure Whey Protein Isolate, Xtend Pro Whey Isolate is designed specifically to support you in maximising muscle growth and recovery. 
Promotes fast absorption - The Whey Protein present in Xtend's cutting-edge formula is extremely clean and highly bioavailable, allowing your body to absorb and utilise the nutrients at a much faster and efficient rate than most other protein sources.
To ramp up your performance, results and recovery, there's no other quite like Xtend's brand new BCAA-enhanced protein powder, Xtend Pro Whey Isolate!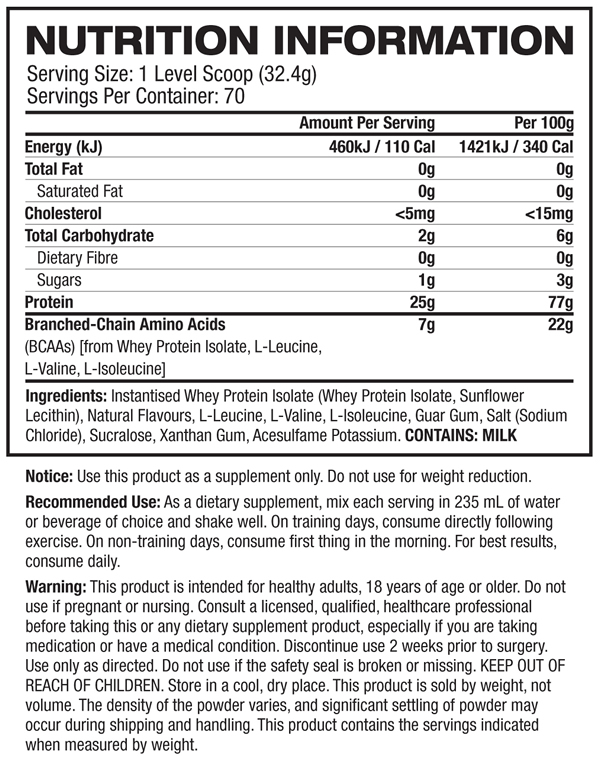 Customers who bought this product also bought:
Dymatize
Free Shipping Australia Wide - ISO 100 by Dymatize
Scivation
Free Shipping Australia Wide - Xtend BCAA by Scivation
JNX Sport
Free Shipping Australia Wide - The Curse by JNX Sports