An Ultra-Premium Lean Mass Gainer TRUE-MASS is an ultra-premium lean mass gainer, designed to promote muscle growth. It features BSN's signature ultra-premium protein formula to feed an athlete's muscles with essential protein building blocks. The unique carbohydrate blend provides the caloric support necessitated by extreme physical exertion, helping the body prepare for and support recovery from intense training. Healthy fats supply quick-burning fuel to satisfy the serious athlete's energy demands. And all these high-quality ingredients come delivered with BSN's exclusive flavour technology, producing one of the most mouth-watering mass-gaining shakes on the market. TRUE-MASS's balanced composition makes it a nutritious source of caloric support and useful as a healthy meal replacement as part of a balanced diet plan. Its ultra-premium blend of protein, carbohydrates and healthy fats promotes increases in lean muscle mass. And with a taste that can't be matched, when it comes to mass gainers, TRUE-MASS is in a class by itself.
Muscle Protein Synthesis
Recovery
Vitamin and Mineral Intake
Weight Management
Stack with NITRIX®, N.O.-XPLODE™, CELLMASS®, AXIS-HT™ and SYNTHA-6™ for maximum physique and performance impact.
DESIGNED FOR: Any individual who needs a calorie and nutrient-dense alternative to regular foods to assist with gaining lean muscle mass.*
RECOMMENDED USE: Mix 3 scoops with 16 oz. of cold water or any beverage of your choice. Vary the amount of liquid to achieve your desired consistency. Drink 1 serving daily, or as needed to satisfy your protein or mass-gaining requirements. To increase your protein and calorie intake per serving and to achieve an amazing milkshake taste.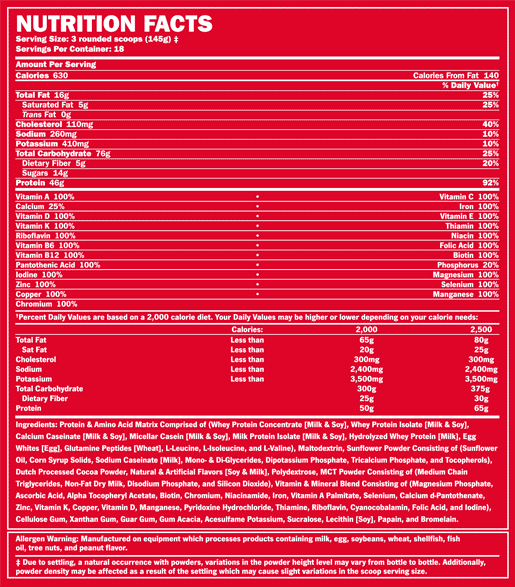 Customers who bought this product also bought: