A variety of substances are included in FInaflex Incinr8 Pre-Workout to maximise energy, focus, and fat-burning for an unmatched training experience. Inciner8 guarantees that your upcoming workout will be truly inspirational by supplying important active ingredients to improve focus, energy, and enthusiasm to train.
Product Attributes
Improve Fat Loss.
Enhance Performance
Boost your energy.
Encourage Mental Focus
200mg Caffeine per serving.
Find out how quickly you can lose weight and accomplish your body competition objectives using Finaflex's Incinr8 pre-workout. This shredding recipe has been physiologically optimised to ensure you have the drive necessary to train with intensity while burning fat at an unparalleled rate, making standard fat-burners appear like yesterday's news.
Although Rauwonfia vomitoria may sound like something you'd never want to consume, this herb's active component, which contains yohimbine, encourages fat reduction. Along with the well-known advantages of L-Carnitine Tartrate, Black Pepper, and Green Tea Extract, Inciner8 is ideally suited to improve fat-loss or shredding regimens.
This product offers nootropic effects by including Acetyl L-Carnitine, which supports acetylcholine production and neuronal energetics. Theobromine and N-Acetyl L-Tyrosine can be used to create a supplement that improves cognition and focus. Finaflex Incinr8 Pre-Workout is more effective than others because it contains only pure caffeine and the absorption booster black pepper.
Directions of Use
Adults: Mix 1 scoop with 300ml - 400ml of chilled water and consume immediately.
Consume 15-30 minutes prior to exercise.
Do not consume more than 1 serve per day.
Do not consume within a few hours of bedtime.
Tolerance can be assessed by taking half a scoop initially.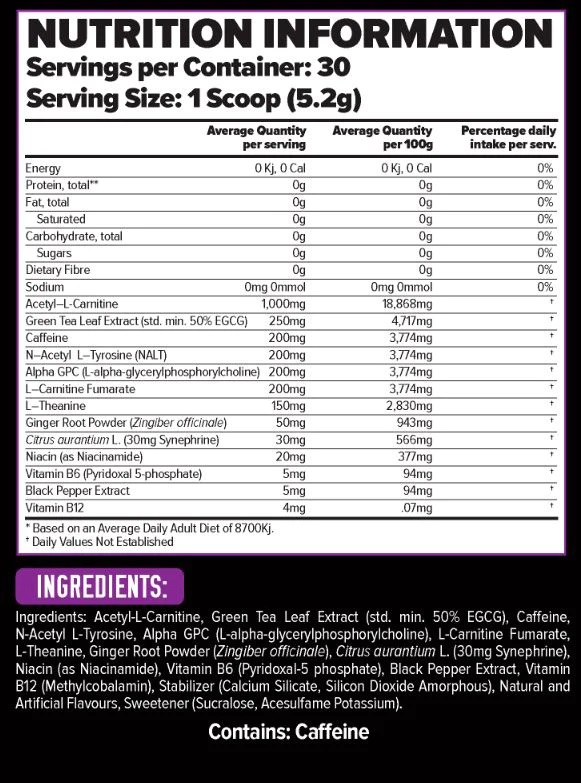 Customers who bought this product also bought:
EHPLabs
Free Shipping Australia Wide - OxyShred by EHP Labs
International Protein
Free Shipping Australia Wide - Ripped to Shredz By International Protein
International Protein
Free Shipping Australia Wide - Amino Charged WPI by International Protein