We are all in pursuit of that luminous beauty, and we all deserve it. To give your body the beauty blend it deserves, Fresh Tea by Green Tea X50 combines marine collagen with nature's best superfood.
Deep Sea Atlantic Marine Collagen, a type 1 collagen that is among the most absorbable of all collagens, is the marine collagen utilised in Fresh Tea by Green Tea X50. The supply of protein to the skin, nails, and hair will be supported by this.
Along with supporting the gut bacteria and facilitating digestion and nutrient absorption, Fresh Tea also contains a mix of mushrooms called Chaga and Lion's Mane. Antioxidants found in this supplement can assist to lower the amount of free radicals that the body produces naturally or as a result of environmental stressors. Broccoli sprouts, which aid in digestion and cleanse, have also been included in Green Tea X50.
Fresh Tea by Green Tea X50 contains the following benefits:
Encourage intestinal health. Fresh Tea's components work together to assist and cleanse the digestive system.
With the addition of marine collagen and a mushroom blend, you can support your vitality and become healthier from the inside out.
Support a healthier, more radiant complexion with this product's marine collagen, which is made to assist the body get rid of free radicals that are produced as a result of environmental stressors on a regular basis.
Take a supplement with extremely few calories, no carbohydrates, and no sugar.
Each serving (1sachet) of Fresh Tea by Green Tea X50 contains:
6.2 calories.
1.1g of protein and zero gluten.
Zero fat and sugars.
0.5g of carbohydrates.
Fish ingredient (marine collagen).
Conclusion
Want to shine from the inside out using a product that tastes so fantastic you won't remember it's healthy? Choose X50's Superfood Beauty Blend, Fresh Tea Marine Collagen + Shrooms, without a second thought. This remarkable mixture is the ideal approach to promote your inner health without sacrificing flavour because it was created to support the health of your hair, skin, and nail as well as your gut flora, digestion, and inflammation.
Directions
Mix 1 sachet in 400ml - 800ml of chilled water, coconut water, or sparkling mineral water. You can even add a sachet to smoothies.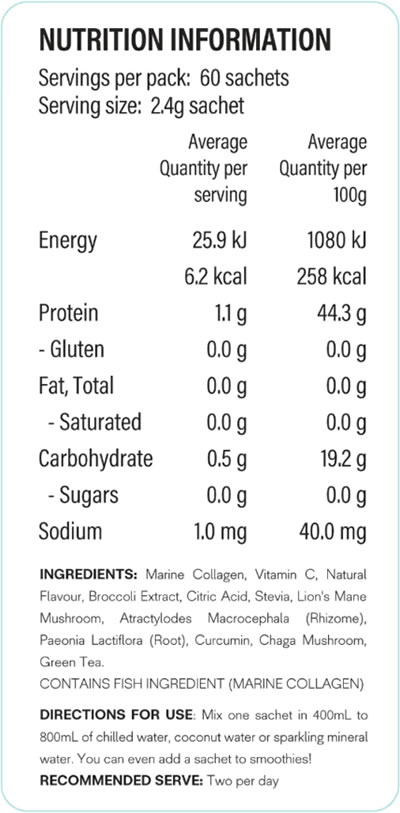 Customers who bought this product also bought: