Agmatine, which is a by-product of Arginine, is a more direct means to increase nitric oxide synthesis, which has been found to promote muscular pumps and help recovery from severe workouts*. Agmatine is important for maintaining healthy levels of neurotransmitter activity and insulin response, and it also helps regulate the release of hormones.
WHAT IS THE PURPOSE OF AGMATINE SULFATE?
Every dietary supplement serves a purpose, and agmatine sulfate's are some of the most potent. Agmatine aids in delivering the following advantages in the context of bodybuilding and sports:
Enhance muscle pumps by reducing the production of nitric oxide.*
Contributes to Pumping, as well as Supports Recovery.*
Encourages leanness and the development of muscle while promoting optimum insulin sensitivity.*
Increases hunger even when you are full, making it easier for people who are underweight to consume extra calories to help them acquire muscle and body weight.*
Improved mental health, clarity, focus, memory, and stress management are all benefits of gamma-agmatine sulphate.*
Increases energy throughout exercise.*
Directions for use:
As a dietary supplement mix one (1) serving with 4-6oz of water or with your preferred pre-workout beverage 20 mins. before training. For best results take an additional serving during training.
*Statements have not been evaluated by the TGA. Products are not intended to diagnose, treat, cure, or prevent any disease.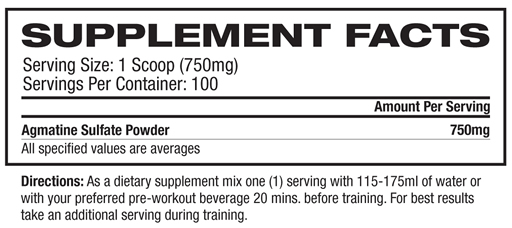 Customers who bought this product also bought:
ATP Science
Free Shipping Australia Wide - Creatine Monohydrate by ATP Science