Dymatize Elite Casein
When it comes to generating high-quality protein, Dymatize is among the best in the world, but they also produce Elite Casein in addition to WPI. This is one of the greatest casein supplements available, having 25g of protein per serving and little in the way of carbohydrates or lipids. When making their casein, Dymatize follows a particular microfiltration procedure that keeps casein's inherent ability to help grow muscle intact. To guarantee top-notch quality, this product is carefully examined by a third party. Dymatize Elite Casein is the best option if you want to build mass while sleeping like a baby!
Why do you need Casein?
Casein is a special protein derived from milk that digests more slowly, increasing satiety and allowing a slower release of amino acids that help build muscle. Caseins are appropriately referred to as anti-catabolic or muscle-protecting proteins because of their special time-released properties.
Therefore, Elite Casein is a great protein option if your objective is to increase muscle mass or prevent muscle protein breakdown between meals or while you're sleeping.
Features of Dymatize Elite Casein
25g of high-quality 100% Micellar Casein per serving
5.4g of Branched Chain Amino Acids (BCAAs) proven to help build muscle and aid in recovery
2.3g of L-Leucine to support the activation of Muscle Protein Synthesis
Available in two delicious flavours: chocolate and vanilla.
Although this supplement is meant to be used before bed, it can be used at any time of the day.
Directions of Use
30 minutes before going to bed, combine 2 scoops (36g) of Dymatize Elite Casein with 250–350 ml of cool water. Try adding a scoop of your prefered Dymatize Elite Casein protein powder to a smoothie, yoghurt, cereal, or pour it into warm oats for a bowl of creamy, protein-packed bliss if you're seeking to switch things up. For a reason, chocolate and vanilla are fan favourites, and our customers are raving about it!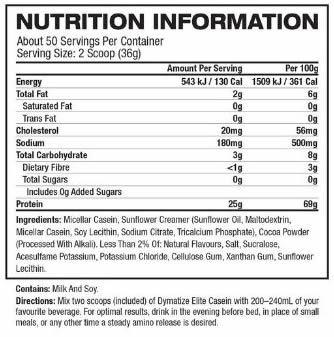 Customers who bought this product also bought:
Muscletech Supplements
Free Shipping Australia Wide - Mass Tech Elite by Muscletech