MOAB Muscle Builder By REDCON 1 
It's difficult to beat the potency of leucine when it comes to size and strength. With MOAB, you can unleash the power of some of the most powerful leucine metabolites. This potent natural bulk builder and nitric oxide booster will help you achieve the best possible development conditions.
MOAB stands for "Mother of All Builders" in the sense of muscular builders. MOAB inhibits muscle breakdown and boosts muscle growth by combining anabolic and anti-catabolic substances, allowing you to attain superior muscle gain faster the natural way. It works by enhancing athletic performance and reducing muscle breakdown by upregulating your body's natural anabolic activities. As a consequence, you'll have a supplement that not only helps you train hard, but also helps you recover faster, allowing you to train more often and gain muscle faster.
MOAB is a supplement that contains a combination of anabolic and anti-catabolic substances that aim to prevent muscle breakdown and promote healthy muscular growth. MOAB was created to be a non-hormonal supplement that does not require PCT. MOAB works by assisting your body in regulating its natural anabolic process while also improving your athletic performance. MOAB intends to help you train harder while recovering faster, allowing you to train more frequently and gain natural muscle mass faster.
Key Points
Rapid Muscle Recovery
Enhances Muscular Strength
No PCT
Lean Muscle Growth
Anabolic and Anti-Catabolic Ingredients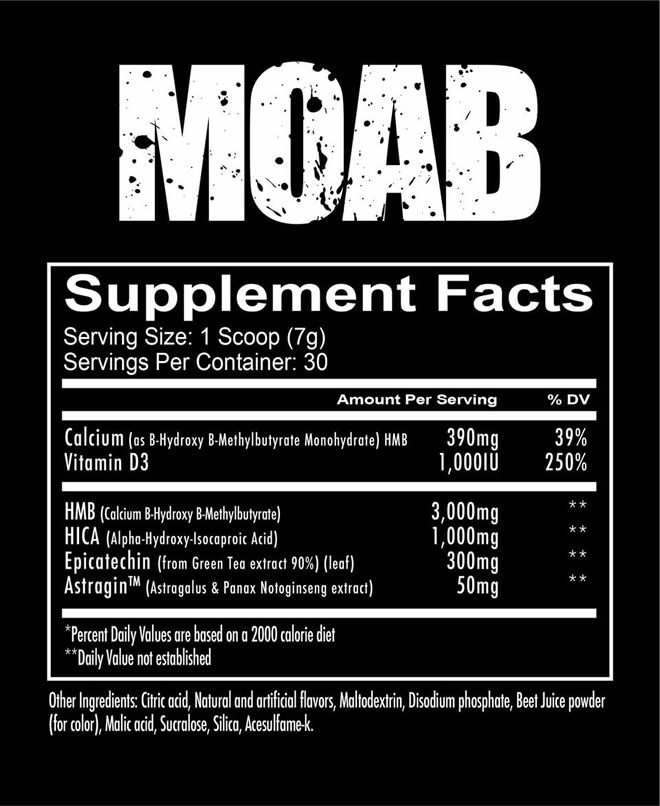 Customers who bought this product also bought:
Scivation
Free Shipping Australia Wide - Xtend BCAA by Scivation
Dymatize
Free Shipping Australia Wide - ISO 100 by Dymatize