ISOPRO IS THE MOST ADVANCED WHEY PROTEIN SUPPLEMENT OUT THERE.
IsoPro is grass-fed Native Whey that almost completely filters out the unnecessary fats found in regular Whey Protein Isolate so that you get more of the protein you need to build and replenish muscle.
ISOPRO IS COMPOSED OF 100% PRONATIV® WHEY PROTEIN ISOLATE POWDER, MADE FROM A REVOLUTIONARY COLD FILTRATION PROCESS THAT ALLOWS FOR A PROTEIN THAT'S ALL KILLER, NO FILLER.
We know, it sounds too good to be true. But in clinical studies taking PRONATIV® resulted in improvements in muscle power, recovery time, performance, and muscle adaptations.
With PRONATIV® you're getting the most Whey Protein Isolate for your buck while leaving what you don't need behind. That's why it's the only kind of Whey Protein Isolate you'll find in IsoPro.
IsoPro keeps in more of the pure protein you need to help you build and nourish tired muscles in a cleaner, more effective way than ever before.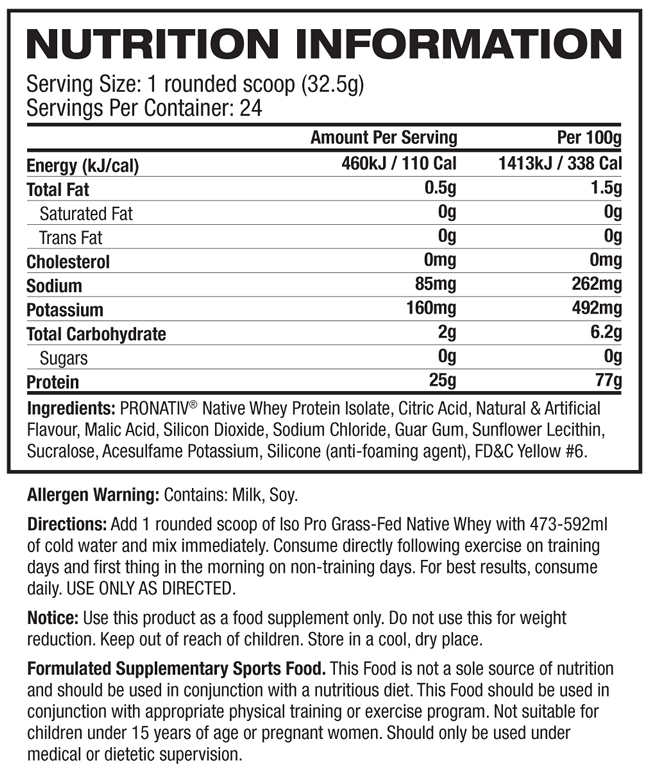 Customers who bought this product also bought: