Fast becoming regarded as the ULTIMATE whey protein blend, MUTANT WHEY is a unique 5-Stage Whey Protein that triggers noticeable muscle growth and increases nitrogen retention. Yes, whey protein helps you grow — but MUTANT WHEY helps you grow BIGGER and FASTER.

MUTANT WHEY has been developed after more than 2 years of dedicated research. It is the world's first protein to use specially selected proteins, each with their own unique uptake rate. This 5-Stage Whey Protein allows each source its own unique delivery to the limited number of protein receptor sites in your digestive system. This simply means no wasted protein – 100% whey uptake! Each of the 5 whey protein sources are 100% complete and rich in anabolic BCAAs and Glutamine to help speed recovery.
Never has a more complete or better-tasting protein formula been developed than new Mutant Whey. New Mutant whey consists of complete proteins containing all the essential amino acids including 17 grams of BCAAs and Glutamine.
This is a brand new proprietary arrangement of specially selected whey proteins featuring NitroSerum, hydrolyzed whey fractions and more. The sheer multitude of various micro-filtered and nano-filtered proteins sends a cascading onslaught of protein/amino acid peptides to your muscles, working synergistically to provide a high- quality, great tasting protein blend that has been designed and formulated to help you get Mutated.
5 whey blend triggering greater muscle protein synthesis
Fortified with extra glutamine
No aspartame — sweetened with sucralose
Addictive taste — perfect for everyday use
Half the cholesterol of other whey brands
Lactose reduced
Smooth mixability
Suggested Use: Normal usage: Mix 2 level scoops with 250-450 mL of cold water, shake vigorously for 15-25 seconds, and slug it back!
Mutated usage: Mix 3 level scoops with 500 mL of cold water, shake vigorously for 15-25 seconds, and slug it back!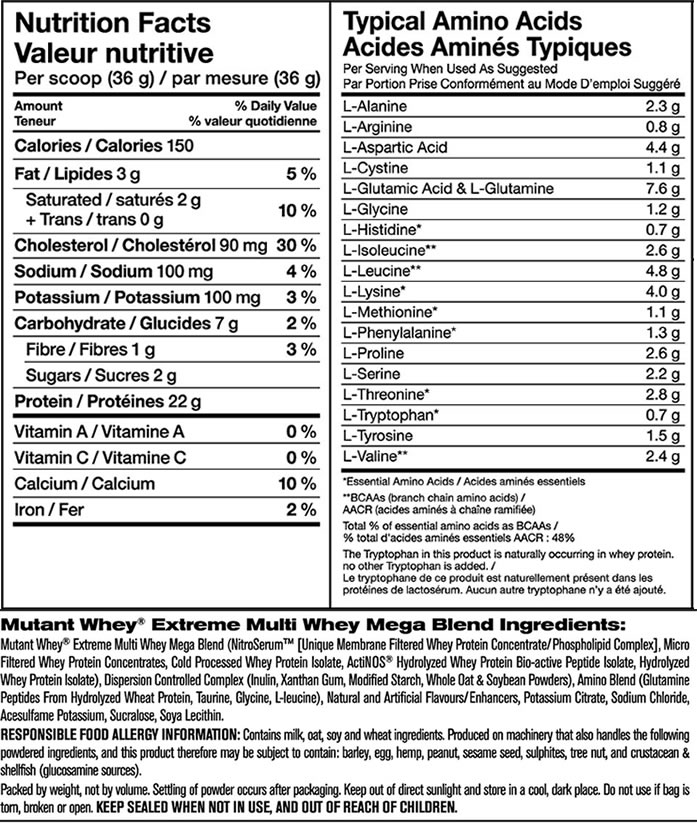 Customers who bought this product also bought: