Ten fat burning ingredients in every tub of Showtime Thermoshred!
When we first decided to create a thermogenic pre-workout blend we listed everything that was important to us in a product. The list was big! Fat-burning, metabolism support, focus, energy, no crash and great taste. Each was important as the next, so we thought, why not include them all!
And that is how SHOWTIME was born. A dynamic blend of the most potent thermogenic, performance and cognitive enhancing ingredients on the planet.
Showtime Thermoshred contains not 8, not 9 but a massive 10 fat burning ingredients. We don't do anything in halves at X50 so we jam-packed some of the most heavily research physical and cognitive performance ingredients into every single Showtime tub!
X50 Showtime Thermoshred Breakdown
Acetyl L-Carnitine: Naturally occurring amino acid that promotes the transportation of free fatty acids into mitochondria (the core of the cells), where they are burned off as energy instead of being stored as fat.
Green Tea Extract: Shown to increase fat burning and boost the body's metabolic rate.
Caffeine Anhydrous: Shown to improve physical performance by mobilizing fatty acids from the fat tissues and making them available for use as energy.
Green Coffee Bean Extract: Currently among the world's most popular weight loss supplements due to the bio-availability of Chlorogenic Acid.
Coleus Forskohlii: Predominantly used as a fat-burning supplement. Forskolin increases cellular levels of adenosine monophosphate (cAMP). Elevated cAMP levels are associated with increased rates of fat loss.
Aframomum Meleguerta: Or Grans of Paradise as it's commonly known has been shown to activate brown fat, which creates a thermogenic effect that increases the body's energy expenditure and decreases body fat content. 
Synephrine: Or Citrus Aurantium (bitter orange) is used in most fat-loss supplements due to its ability to stimulate metabolic rate, increase Lipolysis (the breakdown of fat), and promote appetite suppression.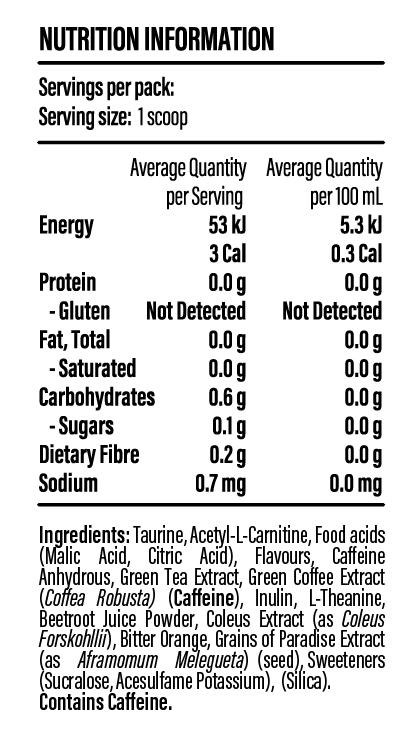 Customers who bought this product also bought: