MTOR SIGNALLING COMPLEX
Pharmaceutical grade
High leucine peptides
No fillers
No sweetenrs
The Science
While all three amino acids play a vital role in muscle metabolism, L-Leucine is the key amino acid that regulates protein synthesis, particularly after the body is subjected to the trauma of hard training. Leucine controls protein synthesis through a signalling pathway called Mammalian Target of Rapamycin or mTOR.
As concentrations of Leucine increase in your system it signals mTOR that you have enough protein available for muscle building which effectively switches on protein synthesis. When Leucine levels drop, which usually occurs during and after hard training, protein synthesis is inhibited. It gets quite a bit more technical than this, but what the research is showing is that a high level of Leucine is the critical factor when considering any BCAA formula for maximum muscle recovery and protein synthesis.
Science has now validated a 10:1:1 ratio of Leucine to Isoleucine and Valine the most effective. But that's not the whole story. Standard free form BCAA's are relatively insoluble, meaning they are quite slow to absorb. This formula solves the issue by using fast and medium absorbing forms of these vital amino acids.
Key Ingredients
• Pepform Leucine Peptides – Specific short peptides with high Leucine content have been shown to be taken up through the small intestine wall much faster than free form aminos, giving an immediate Leucine spike to switch on protein synthesis
• Micronized and Instantised BCAA's – These BCAA's have very small particle sizes and are specially treated to enable faster wetting and absorption
• Free Form BCAA's – traditional BCAA formulas contain medium absorbing aminos. They continue switching on protein synthesis after the faster BCAA's effects begin to diminish.
Recommended Usage
Take 5 grams (1 scoop) before and 5 grams immediately after training. Can also be taken before bed to aid muscle recovery and growth while you sleep. Can be taken straight or mixed with a sports drink, juice or added to your protein shakes.
MAX'S BCAA 10:1:1 is pure BCAA's. It contains no sugars, flavours, sweeteners, or other additives, just pure BCAA's to switch on protein synthesis. We recommend you add it to your protein drinks to enhance their muscle building effect. If you're hard core you can also take it strait, simply place a dose on your tongue and wash down with a glass of water. 100% advanced BCAA's for 100% results.
FAQS
Can BCAA's be taken with other supplements like Creatine or Glutamine?
Yes, BCAA's are stable and will be just as effective if they are taken in conjunction with other supplements, food or protein shakes.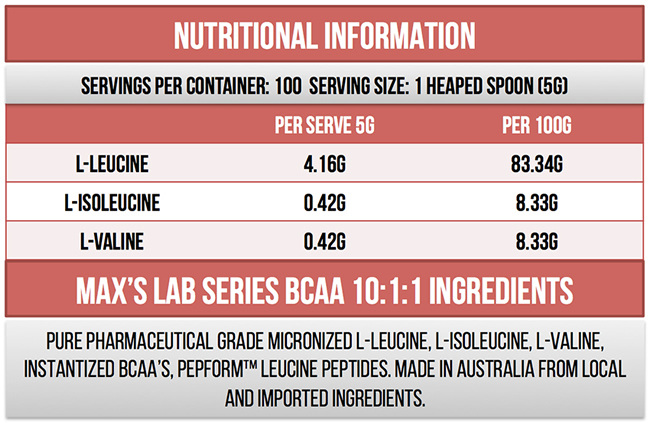 Customers who bought this product also bought: