BCAA + EAA ENERGY
How significant are amino acids, albeit you may have heard of them? Amino acids, also known as the "building blocks of life," aid in body growth, food digestion, body tissue repair, and muscle recovery after exercise. They are an excellent source of energy and help you stay energised and motivated throughout the day. Amino acids are crucial for maintaining your general health in addition to helping you get the most out of your workout.
Instant delivery of the muscles' building blocks, or amino acids.
Includes Peptopro®.
Prevents muscle damage when exercising and jump-starts the healing process afterwards.
Fully Dosed BCAA & EAA for Muscle Recovery & Repair
It enhances protein balance and muscle protein synthesis when combined with carbohydrates, even during exercise.
Tyrosine & Acetyl L Carnitine for Focus & Alertness.
Electrolytes and cofactors to preserve cell fluid and hydration.
Free of soy, lactose, and gluten.
WHAT AMINOS DO
There are nine essential amino acids that are crucial for your health and wellness, but the body is unable to produce them; instead, they can only be obtained from a balanced diet. All nine of these essential amino acids are included in Athletic Sport's Aminos EAA + BCAA Energy, along with three additional non-essential amino acids that help the body recover from rigors training by promoting protein synthesis and preventing muscle catabolism. The biological process known as protein synthesis allows for the rebuilding of missing cellular proteins by individual cells.
PeptoPro®, a hydrolyzed casein that offers a broad spectrum of micronutrients essential for muscle regeneration, is another ingredient in Athletic Sport Aminos. PeptoPro® is pre-digested and contains > 60% di and tripeptides for immediate administration even during intense workout. Significant human clinical studies have demonstrated that PeptoPro® can boost muscle growth, minimise muscle pain, and improve endurance.
Directions for use
Mix 1 scoop (9.3g) of Athletic Sport Aminos with around 500-700ml of cold water and consume during your training session or sip on it during the day to boost your daily protein intake. If you prefer a sweeter tasting beverage, use less water however if you find the taste too strong, this product can be diluted by adding more fluid.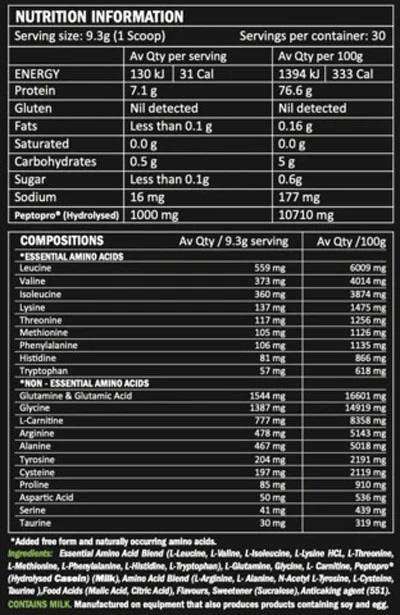 Customers who bought this product also bought:
Max's Supplements
Free Shipping Australia Wide - MYO-T Capsules by Max's Lab Series
X50 Lifestyle
Free Shipping Australia Wide - Green Tea X50 by Tribeca Health
Maxines
Free Shipping Australia Wide - Burn Protein Bars by Maxine's