Finaflex Stimul8 Harcore Pre-Workout is an ultra-potent ergogenic aid offering the benefits of amino acids, nootropics, herbal extracts and pure caffeine anhydrous. Each serve delivers a massive 350mg caffeine, along with L-Theanine to smooth out the energy rush that will have you training for hours and then looking for more. With Citrulline Malate (2:1) and Agmatine for enhanced pumps and vascularity, Beta-Alanine to boost muscle carnosine and Betaine Anhydrous to increase training volume, this hardcore pre-workout from Finaflex is a must-have for any serious gym enthusiast.
Product Features
350mg Pure Caffeine. 
Natural Nootropics.
Enhance Muscle Pumps.
6 grams Citrulline Malate!
Buffer Lactate with B-Alanine.
Piperine Absorption Enhancer. 
How to Use Stimul8 Pre-Workout
Mix 1 Scoop into 350ml water and consume 30 minutes before exercise. If you are unsure of your caffeine sensitivity, being with 1/4 scoop and consume before midday.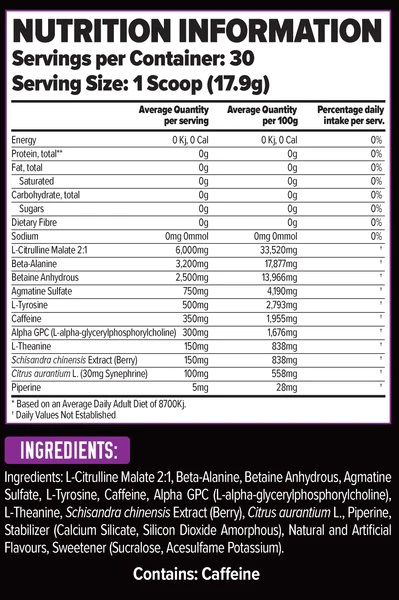 Customers who bought this product also bought: