Features of the product
Enhancers of nitric oxide.
Lactic Acid buffer.
Organic Nootropics.
Strong diuretics
Highest Doses!
Specially created to be your ideal training partner, Finaflex Domin8! Finaflex's newest product, DOMIN8, has completely taken over! If you've been looking for the right boost to get you through a challenging activity or workout session? Then you can relax knowing that the perfect combination of synergistic compounds is working to get you the outcomes you've been looking for. So let's dissect DOMIN8 by Finaflex for a moment. This mental drive pre-workout features a great dosage of Alpha GPC doubled down with L-Tyrosine AND Choline Bitartrate to assist sustain focus and drive regardless of what activity you choose to do. Finaflex DOMIN8 can provide you a powerful cognitive boost with frequent use. With 325 mg of caffeine from two sources in DOMIN8, there is no shortage of energy. Additionally, the N.O. production quality is top-notch thanks to a blend of L-Citrulline Malate and S7, both of which have been demonstrated to increase N.O. levels within the body, supporting nutrient flow to the muscles and generating pumps of epic proportions! Each potent serving of DOMIN8 by Finaflex can offer the following benefits, helping you redefine your daily activities or your workouts:
Two different forms of caffeine support an incredible energy increase.
Increased ability of nitric oxide to produce fantastic pumps.
Amazing nootropics assist a laser-sharp focus.
Don't fall behind because the Finaflex DOMIN8 is come to change the rules of the game. Regardless of the activity you choose, this powerful pre-workout may help you push yourself to the limit! This is the ideal training partner since it gives you laser-sharp focus, amazing pumps, and long-lasting energy without causing you to lose your concentration. So, ditch your boring pre-workout routine and pick up a tub of Finaflex DOMIN8 right away!
Finaflex Domin8 provides sustained-release energy with enough caffeine to jump-start an economy, so you won't have to drag yourself off the car park asphalt after the gym and wonder where your energy went so quickly. With the high-quality caffeine and L-Theanine in Domin 8 pre-workout, you can transition smoothly from extreme training energy to your normal self.
 Do you need some fresh inspiration? Feeling a little stuck-in-a-rut or stale when it comes to training time? Take a scoop of Finaflex Domin8, rip off the cover like a wolf insatiable, and you'll be in training heaven. Domin8 is your pre-workout if you identify with all things strong, dominant, and aggressive!
How to Use Domin8 Pre-Workout
Mix 1 Scoop (13.9g) into 250ml Cold Water and consume 30 minutes before exercise. If you are unsure of your caffeine sensitivity, begin with 1/8th teaspoon and consume before midday.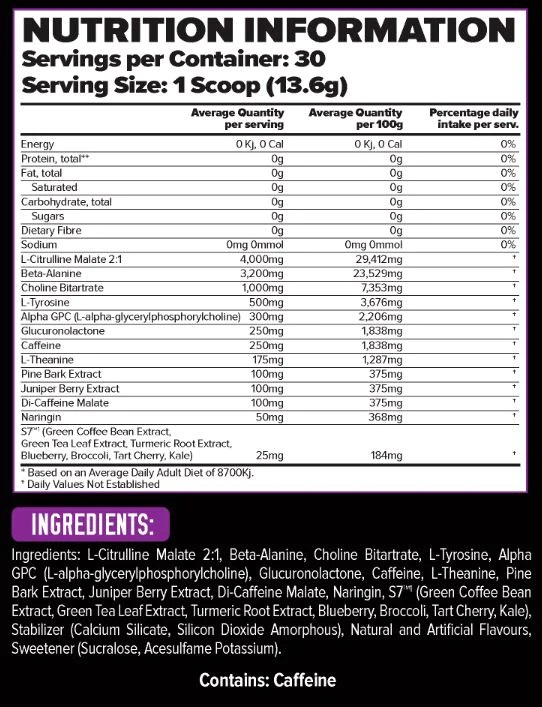 Customers who bought this product also bought:
BSN Supplements
Free Shipping Australia Wide - Syntha 6 Edge by BSN
Finaflex
Free Shipping Australia Wide - Stimul8 Hardcore By Finaflex