Ghost Burn is an all-new weight loss product from the original lifestyle supplement company Ghost. Ghost Burn features a fully transparent and well put together combination of ingredients. It includes one of the most common and effective weight loss ingredient 3g of Carnitine with 1.5g from Carnitine Tartrate and Acetyl-l-Carnitine. It also contains 300mg of Caffeine for a solid energy boost, 600mg of KSM-66 Ashwagandha, 40mg of grains of paradise, 20mg of theobromine and 30mg of Synephrine to help you burn your 'stubborn fat'. This excellent formula also contains 1g of choline bitartrate, 100mg of NeuroFactor and 0.5g of tyrosine for extra focus.
Features
Promotes enhanced fat burning
Boosts energy
Increases mental focus
100% transparent formula
Containing 3g of Carnitine, with 1.5g consisting of Carnitine Tartrate and Acetyl-l-Carnitine, Ghost Burn helps to promote fat loss through Carnitine's role in helping to move fatty acids into cells, where it is then burned and used as a source of energy. With an enhanced supply of energy, Ghost Burn helps to increase endurance, allowing you to train harder and for longer. The result? An ideal environment to increase fat burning!
Additionally, 600mg of KSM-88 Ashwagandha, 40mg of Grains of Paradise, 20mg of Theobromine and 30g of Synephrine have been added to the formula to help further ramp up your fat burning capabilities. Studies have shown that Grains of Paradise is effective in helping to convert white adipose tissues into brown adipose tissues. As a result, the increase in brown adipose tissues will increase the body's overall energy expenditure, resulting in increased fat burning. Likewise, Theobromine is a mild stimulant and diuretic that aids weight loss through enhanced energy to assist exercise endurance, helping to shed water weight, and acting as an appetite suppressant. To complete the fat burning matrix, Synephrine helps to increase metabolic rate, increase caloric expenditure and increase energy levels throughout the duration of the day.
Designed to improve both fat burning and alertness, Ghost Burn also contains 300mg of Caffeine to provide a solid energy boost, in addition to 1g of Choline Bitartrate, 100mg of NeuroFactor and 0.5g of Tyrosine to enhance focus.
Ghost Burn is a comprehensive formula that is extremely well balanced and is a solid weight loss aid that provides effective fat burning coupled with elevated focus, uplifted and long-lasting sustained energy.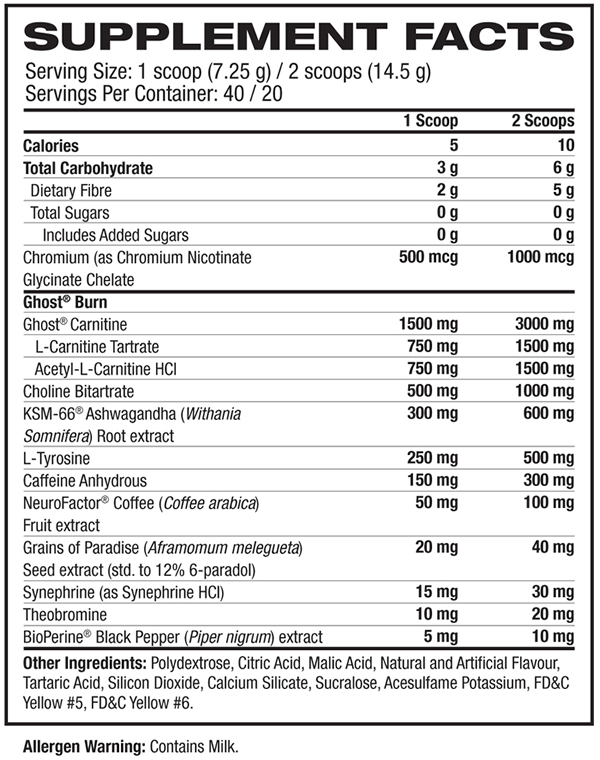 Customers who bought this product also bought: