Alpha Jupiter from ATP Science.
If you loved ATP Science's popular, powerful Alpha Mars formula, you're sure to adore it's updated and improved replacement. Introducing: The ideal formula for the "manly man" is Alpha Jupiter.
Features
Gluten-free.
Devoid of lactose and dairy.
No sweeteners, colours, or flavours that are artificial.
Gold seal of approval from ATP Science.
Vegan-friendly.
GMO-free.
Alpha Mars has been substituted by this recipe.
Each serve of Alpha Mars by ATP Science has:
Mineral Pitch (Shilajit)
Tongkat Ali (Eurycoma longifolia) root extract
Fenugreek (Trigonella foenum-graecum) seed extract
Stinging Nettle (Urtica diocica) root extract
Asian ginseng (Panax ginseng) root extract
Benefits
With their newest product, Alpha Jupiter, ATP Science has done it once more. This premium mixture has strong components that aid in body healing. This gluten-free formulation comes with the ATP MAN formula from ATP Science, which includes Shilajit, Tongkat Ali, Fenugreek, Stinging Nettle, and Panax Ginseng. Doing your own independent research on these components will help you understand why this powerful product might be just what you've been looking for.
Summary
Look no further than ATP Science Alpha Jupiter if you're seeking for a formula that is results-driven. God of the sky and thunder Jupiter is also the unyielding father of Mars.
Directions of use
Take 2 capsules twice daily with food.
Capsules can be opened and sprinkled onto food or added into smoothies as desired.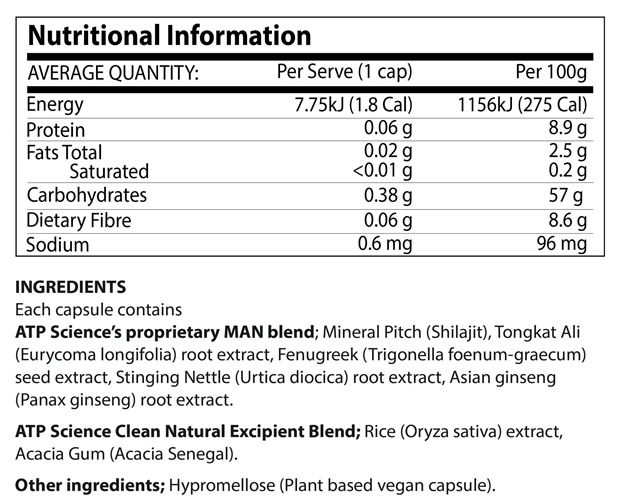 Customers who bought this product also bought: