This incredibly healthy beverage, made by Green Tea X50, gives you rapid energy and aids in the body's metabolism of calories. The product stimulates your body without using guarana. A concentrated source of green tea powder is offered by green tea X50. Green Tea X50 is an ultimate antioxidant house with exceptional free radical scavenging abilities because it contains a blend of antioxidants. The product has multiple uses, including body composition support, detox support, and energy drink.
Ingredients
Tea Leaf Extract (Camellia Sinensis).
Resveratrol (Fallopia Japonica).
L-Theanine.
EGCG.
Mineral traces.
Compared to normal energy drinks, which are sometimes sweet and include caffeine or guarana, GreenTea X50 offers more sustained energy. For those who are just starting out, it is advised to select the mixed pack so they can sample all the flavours and decide which one they prefer the most. These incredible flavours are mixed together in the various flavours box. Tropical, Lemon Ginger, Mango, Passionfruit, Peach, Raspberry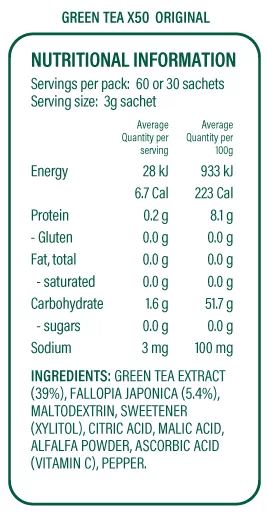 Customers who bought this product also bought: