C4 Ripped Sport Pre Workout
Cellucor C4 Ripped Sport will provide you with the energy you need to shred. Ripped Sport blends C4® Sport's tremendous energy with a new fat-loss formula, resulting in a best-in-class pre-workout that can help you perform at your best—whether on the field, track, or in the gym.
C4® Ripped Sport can be your partner on the road to achieving your fitness and physical goals.
Features:
CarnoSyn® Beta-Alanine — Formulated to prevent tiredness, resulting in increased power and performance.
Citrulline Malate - Aids in the production of nitric oxide.
CLA (Conjugated Linoleic Acid) — This fatty acid is thought to block the expression of fat-gaining enzymes, hence increasing energy expenditure and preserving lean muscle mass.
Servings:
Take each serving (1 level scoop) of C4® Ripped Sport, with 8 fl. oz. of water, and consume 20 - 30 minutes before training. Once tolerance has been assessed, take one additional serving (1 level scoop) with the serving taken before training for added energy and weight loss support. During your workout, it is recommended that you drink plenty of water. Some individuals may experience a harmless tingling sensation, which is attributed to beta-alanine.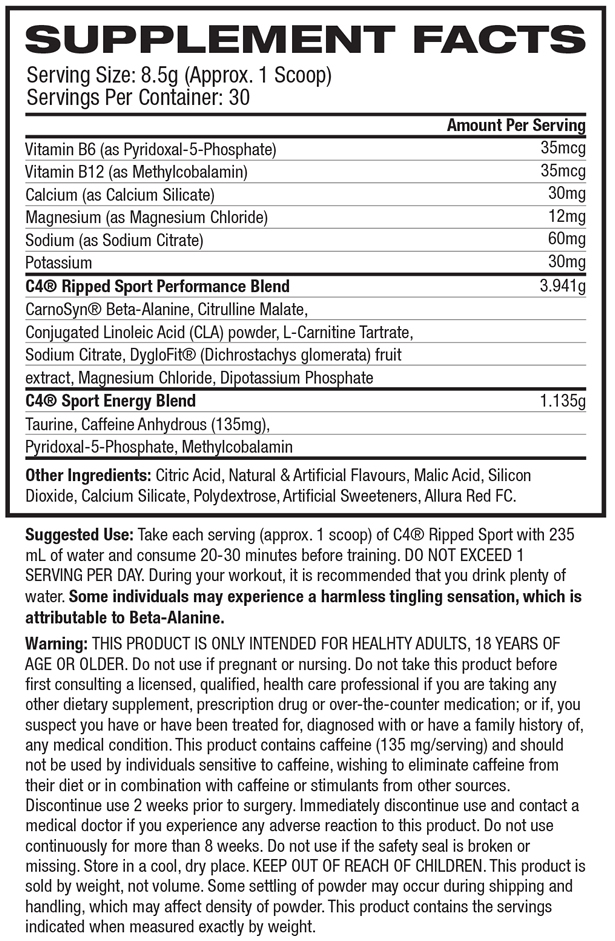 Customers who bought this product also bought: