Calm Stress Support by Body Science BSC has a combination of ingredients designed to reduce symptoms of stress and mild anxiety so you can perform, recover and thrive. Having a balance between body and mind is essential for a healthier you from the inside out.
Body Science BSC has specifically formulated Calm Stress Support to help you find your calm so you can perform to your best each and every day. Everyone knows that stress can affect not only mentally but also physically.
If you are feeling the stress from overtraining or from work, don't reach for another coffee instead get your hands on Calm Stress Support. The combination of ingredients will help to calm the mind and soothe the nerves so you can get on with your day.
Calm Stress Support has a blend of researched herbs and nutrients, which have been proven to support a positive and calm mind, mental focus, memory and concentration. This product will also help to increase your ability to deal with stress and symptoms of mild anxiety.
When you have Calm Stress Support by Body Science BSC, you'll:
Reduce symptoms of mild anxiety
Decrease symptoms of stress
Support mental function
Support healthy mood balance
Support red blood cell damage 
Help to maintain healthy blood sugar
Maintain muscle health in athletes
Help post-exercise recovery
Calm the mind and soothe nerves
Reduce free radicals that are formed in the body
Assist carbohydrate metabolism
Help to synthesis neurotransmitters
Decrease free radical damage to body cells after exercise
Consume a product that uses traditional Western herbal medicine to decrease sleeplessness
When it comes to pushing your hardest in and out of the gym give your body all the nutrients and tools for a better life and body. A calm mind will help to support general mental wellbeing so you can work more efficiently in all areas of your life.
You will notice the effects of Calm Stress Support by Body Science BSC within one hour of taking it, and to best experience, this product a daily dose is recommended.
Each tablet of Calm Stress Support by Body Science BSC contains:
525mg of Melissa officinalis leaf (Bluenesse® lemon balm)
500mg of Piper methysticum root (Kava root)
1000mg of Ziziphus jujuba var. spinose seed (Zizuphus)
900mg Aloysia citrodora leaf (Recoverben® lemon verbena)
29.17mg of Pyridoxine hydroxide
1.03mg of Chromic Chloride hexahydrate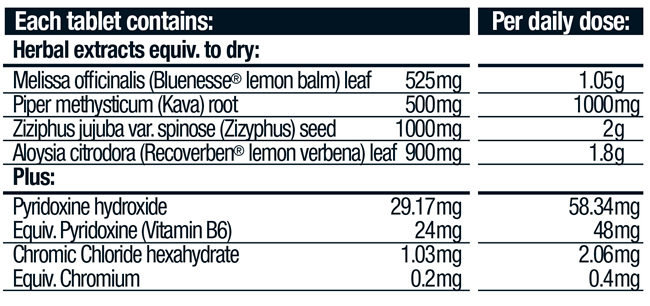 Customers who bought this product also bought:
GenR8 Vitargo
Free Shipping Australia Wide - Vitargo S2 Muscle Fuel & Recovery by Genr8
Muscletech Supplements
Free Shipping Australia Wide - Masstech Extreme 2000 by Muscletech
Ghost
Free Shipping Australia Wide - Size by Ghost