Plant-Based Protein by Nature's Best is an organic plant-based protein powder containing the purest ingredients free of anything artificial.
The added rice protein in this supplement will give your body high-quality protein, amino acids and vitamin B and E as well as gut-loving fibre. Rice protein is also known for its hypo-allergic properties and quick absorption and digestion.
The pea protein, which is also part of this formula, is rich in iron and great for building muscle, especially when added with a resistance training program. Pea protein will also help you feel fuller for longer, which can also support your body composition goals.
When you have Plant-Based Protein by Nature's Best, you'll:
Absorb all the goodness of this protein powder faster than usual as the combination of rice and pea protein is of easy digestion.
Support body composition goals by providing your body with the right nutrients; each serve has 20g of protein and low carb and fats.
Support excellent amino profile as it combines unique protein sources to help produce a full profile of essential amino acids, which the body can't produce on its own.
Support muscle recovery due to the full profile of essential amino acids, which is crucial for full recovery and growth.
Feel fuller for longer as pea protein is as effective as dairy-based protein when it comes to promoting fullness.
Nature's Best has made sure to formulate a vegan protein powder with the highest quality ingredients, so you can enjoy a product that is not only pure but also good for you and your health. Made with simple ingredients, Plant-Based Protein is tasty and pure, which will help you fuel your performance.
Each serving (28g) of Plant-Based Protein by Nature's Best contains:
105 calories and 20g of protein
1.5g of total fat and only 0.5g is saturated
2g of carbohydrates and zero sugars
No gluten, dairy soy, or anything artificial
Warning: This product is not a sole source of nutrition and should be consumed in conjunction with a nutritious diet and an appropriate training or exercise program. Not suitable for children under 15 years of age or pregnant women: Should only be used under medical or dietetic supervision.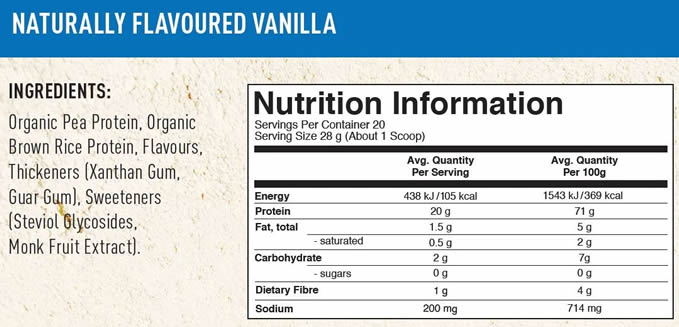 Customers who bought this product also bought: