For over 20 years, Muscletech NITRO-TECH has led the way in protein innovation.
Built on a foundation of human research and cutting-edge science, it's earned the trust of countless consumers worldwide. Now the same research and development team has pioneered a new formula based on superior protein sources, quality and manufacturing.
Introducing NITRO-TECH CASEIN GOLD – an advanced formula with multiple premium casein sources for optimal digestion rate and superior BCAA profile!
SUPERIOR SCIENCE, SUPERIOR RESULTS.

Enhance your recovery with sustained nutrient release. Casein and milk protein are some of the slowest-digesting proteins available. NITRO-TECH CASEIN GOLD delivers 24g of high-quality protein taken from multiple premium casein sources for a prolonged amino acid release to feed your muscles for up to 8 hours. What's more, each enhanced serving of NITRO-TECH CASEIN GOLD contains 10g of naturally occurring BCAAs, glutamine and precursor, and only 1g of sugar. Combined with an award-winning flavor profile, NITRO-TECH CASEIN GOLD is as good for your taste buds as it is for your muscles!
8-HOUR SUSTAINED BCAA DELIVERY
The protein source used in NITRO-TECH CASEIN GOLD has been shown in research published in The American Journal of Clinical Nutrition to release amino acids into your bloodstream for up to 8 hours after taking it. With the sustained-release property, the highly anabolic and anti-catabolic formula promotes a musclebuilding environment for longer periods of time!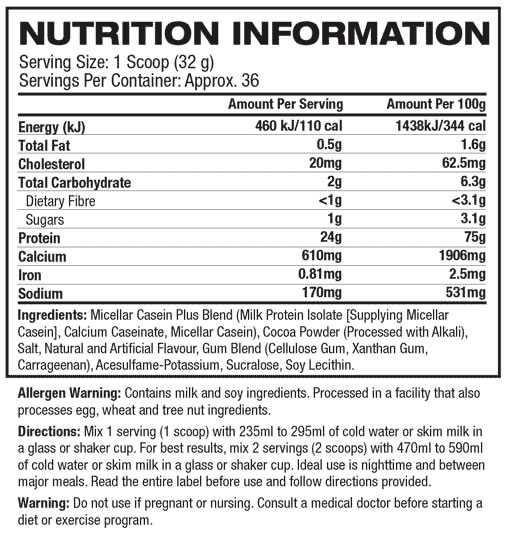 Customers who bought this product also bought: