BSC Hydroxyburn Shred Ultra 60srv
Take your fat burning game to a new level. Body Science has delivered the new HydroxyBurn Shred Ultra. A powerful blend of thermogenic fat burner that will also improve mental alertness, focus and clarity.
HydroxyBurn Shred Ultra by Body Science BSc is scientifically developed to deliver you maximum results and performance. The unique combination of caffeine, garcinia, guarana, green tea, green coffee bean, chromium and acetyl L-carnitine will enhance fat loss, energy levels and mental alertness.
When taking the daily recommended dose of HydroxyBurn Shred Ultra, you'll experience:
Better fat loss due to the blend of thermogenic ingredients such as Garcinia, Green Tea Leaf, Guarana, Green coffee bean and acetyl L-carnitine. This unique formula gives you an increase in your metabolism, which helps to burn more calories throughout the day.
Increase performance. The key ingredients in the blend promote better physical endurance and support high-intensity workouts. It also improves stamina, recovery and fatigue when at a gym session.
Enhanced focus and clarity with the combination of nootropics, which aids cognition and memory and helps with learning. Nootropic is a blend of Caffeine Anhydrous, Ashwagandha root, Bacopa Monnieri and Inositol.
When it comes to a shredder and energy booster HydroxyBurn Shred Ultra delivers it all and much more. This unique blend of thermogenic and nootropic ingredients will give you the boost of energy to improve focus and motivation as well as effectively burn unwanted body fat.
With each daily dose you'll take in:
100mg of Caffeine helps to reduce fatigue and improve physical strength and endurance during a workout.
5g of Garcinia helps to reduce appetite, fat stores and body weight.
9g of Guarana to increase energy, workout performance and alertness.
5g of Green Tea to improve mental alertness and to help promote weight loss.
78mcg of Chromium to help metabolise and store carbs, fat and protein in the body.
4g of acetyl L-carnitine for optimal fat burning.
6700mg of Nootropics blend, which includes 100mg of Caffeine Anhydrous, 1000mg of Ashwagandha (Withania) root, 5000mg Bacopa Monnieri and 600mg of Inositol. This combination will enhance cognition, memory, motivation, focus and calmness.
When you want to hit peak performance and achieve optimal fat loss HydroxyBurn Shred Ultra by Body Science BSc is the product you have been searching for. When used in conjunction with a calorie-controlled diet and regular exercise, this supplement will meet your expectations and go above and beyond.
HydroxyBurn Shred is available is a range of tasty flavours, and it is vegan-friendly, gluten-free and contains no added sugar.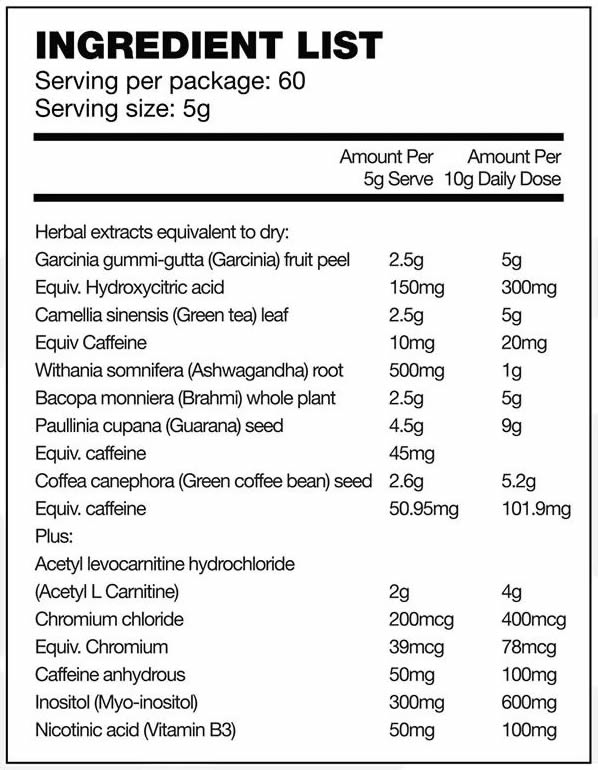 BSC Green Tea TX100
Why did we combine the two key ingredients:
GREENTEA may assist good bacteria and burn fat.
PROBIOTICS may assist optimisation of your digestion.
For the first time probiotics meets green tea in an advanced weight loss system. A delicious tasting, low calorie, convenient and easy to use formula.
Direction for use::
Approved directions for use (Adults Only):
Dissolve sachet content into 600mL of water and drink immediately.
Take two 3g sachet daily. Best taken in the morning and at lunch time.
Do not exceed the recommended dose.
Do not use if:
Pregnant or likely to become pregnant.
Sensitive to the effects of caffeine.
Ask a doctor or pharmacist before use if:
Stop use and ask a doctor if:
You experience any unpleasant effects whilst taking this product.
Please be advised that:
Vitamins can only be of assistance if the dietary vitamin intake is inadequate.
The maximum recommended daily dose of this product (2 x 3g sachets) contains 100mg caffeine.
This product is designed to be used in conjunction with a calorie controlled healthy eating plan and regular exercise.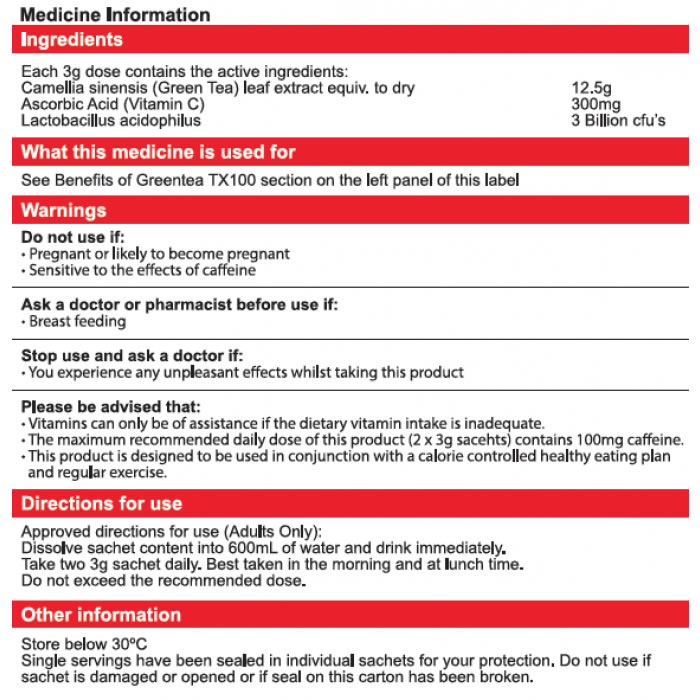 Customers who bought this product also bought: