Collagen is the key structural protein that ensures the cohesion, elasticity and regeneration of all our connective tissues including hair, skin, nails, tendons and ligaments.
As we grow older the collagen matrix that provides skin its firmness starts to break down and we develop fine lines and wrinkles.
Beautiful skin needs a healthy foundation on the inside. This is where Sculpt Collagen supplement can help your skin from within to aid optimal skin function.
Contributes to the maintenance of strong hair and nails.
Helps protect from free radical damage
Sculpt collagen is packed in NZ using French collagen peptides.
Sustainably sourced from fish
Bioavailable which enables optimal absorption
Neutral taste and odour so it can be added to any hot or cold food or beverage
Take 1 sachet daily for best results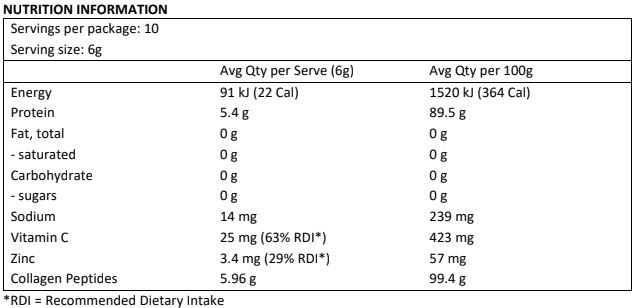 Customers who bought this product also bought: