MAX'S ATP Load'd is our new generation energy enhancing formula designed for athletes who want to maximise short term explosive energy and power needed for intense all-out efforts. This potent formula combines clinically dosed PEAK ATP with 4 potent forms of Creatine to maximise uptake and energy output during hard training - all in the convenience of easy to use capsules.
PEAK ATP for Maximum Energy
Insane Strength and Power
Push Harder For Longer
Faster Lean Muscle Gains
What is PEAK ATP? - Clinical studies have shown that PEAK ATP® is effective after a single dose (400mg). It increases the ratio of muscle power output and muscle activation during early bouts of repeated exercise, and prevents the decrease observed in the placebo group during later bouts. This demonstrates the unique ability of PEAK ATP® to activate muscles, causing them to contract with higher force of contractions, sparking gains in strength and power.
MAX'S LAB SERIES ATP LOAD'D delivers the clinically effective dose of PEAK ATP® combined with our Creatine Complex in the most effective way possible, aided by ASTRAGIN. Studies show AstraGin™ works by increasing the quantity of specific compounds and nutrients your body is able to absorb at a single time, allowing faster, and more potent absorbtion of the active ingredients in ATP LOAD'D!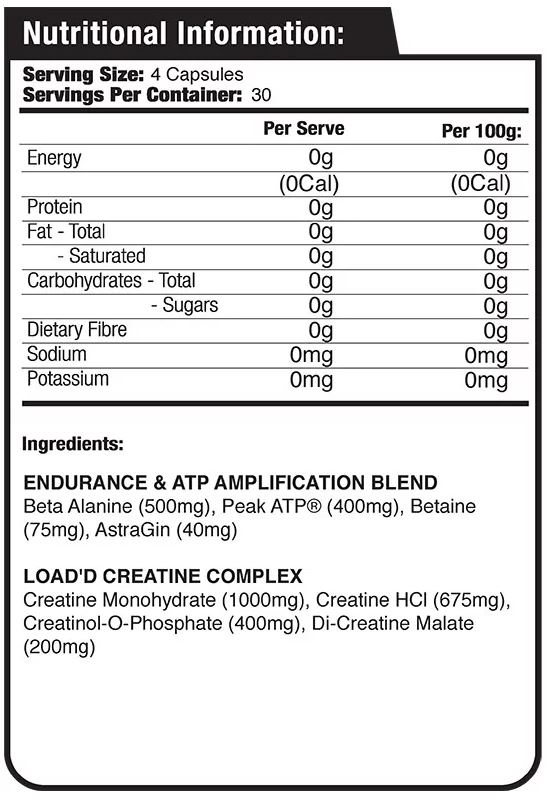 Customers who bought this product also bought: