Made to support maximum energy output through both mental and physical energy optimisation, Brutal Energy is the pre-workout choice of many high-end athletes.
Intense Energy
Explosive Strength
Sharp Focus
Combining new innovative ingredients with the tried and tested stalwarts of pre-workout performance enhancement, Brutal Energy focuses on 3 primary concepts to training performance.
Support Mood/Energy
Enhance Strength/Power
Increase Recovery
Made to maximise mental and physical output, International Protein's Brutal Energy will have you surpassing your expectations immediately.
Core Ingredients
Caffeine (Green Coffee)
Caffeine has long been recognised for its benefits in improving CNS stimulation, causing an increase in catecholamine release and consequently improved energy, strength and power output.
Teacrine
Teacrine is a similar alkaloid to caffeine, in that it stimulates catecholamine release, but it offers 2 additional benefits in a reduced effect on desensitisation to continual use as well as improved dopamine release for mood enhancement.
Combining teacrine with caffeine works synergistically and has been shown to be as effective with each dose for up to 60 days of consistent use without desensitisation.
Macuna Pruriens/ALCAR/NALT
L-Dopa from Mucuna Prurients helps promote enhanced mood, a feeling of well-being and general motivation improvement. Combining L-Dopa with Acetyl L-Carnitine (ALCAR) and N-Acetyl L-Tyrosine (NALT) ensures maximum dopamine + acetyl choline levels are released, which results in enhanced cognitive performance and focus.
Beta Alanine
Beta Alanine is a rate limiting amino acid responsible for enhancing the body's ability to buffer and remove toxic waste accumulated during anaerobic exercise, leading to improved exercise intensity capacity.
Betaine
Individuals supplementing regularly with Betaine have been shown to increase strength and performance while also enhancing lean muscle tissue accrual.
Kre-Alkalyn
Kre-Alkalyn is a patented version of PH regulated creatine monohydrate that offers enhanced absorption, a lower risk of degradation and improved performance enhancement.
BCAA's + B Vitamins
BCAA's and B Vitamins work synergistically as cofactors for performance by supporting natural energy levels, ensuring nutrient uptake is optimised, that perceived pain around exercise is reduced and that muscle recovery is supported.
Brutal Energy is 100% safe for use in all WADA/ASADA athletes and drug tested professionals. Consume with 100% confidence.
DIRECTIONS
Take 12g (2 scoops) mixed with 350ml of water 15 - 10 minutes before training or intense exercise. Also suitable for use during training.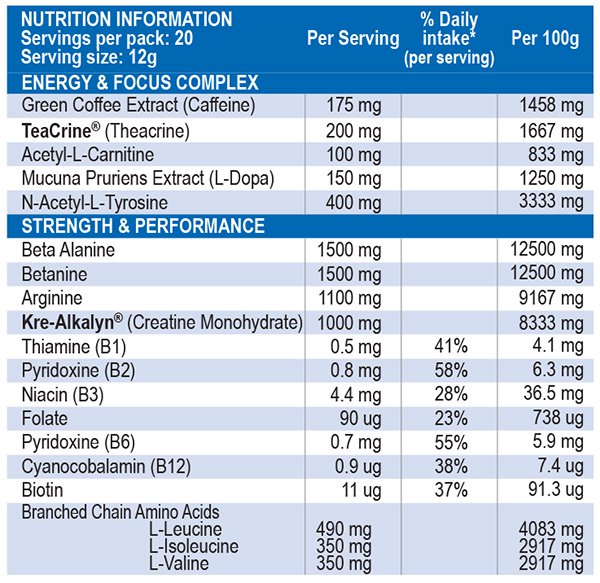 Customers who bought this product also bought: