Athletes and everyday gym goers can absorb protein very quickly with this product thus catalysing muscle growth, muscle endurance and quick recovery.
Interestingly, Proto Whey doesn't rely on the digestive system to absorb the product but is absorbed directly in the bloodstream due to its micro peptides and medium chain triglycerides. This supplement contains only hydrolysed proteins, so your body doesn't have to do any excess work to absorb it. This allows the product to be absorbed 30-45 times faster than the average protein supplement.
Ingredients
Without the best ingredients, a health supplement cannot be the best. With this product each ingredient is hand-picked by scientists and fitness experts. It's chocked full of key ingredients that will help you build muscle, workout harder and recover quickly. Each ingredient has been chosen specifically for its beneficial effects on your body, and for their absorption rate.
What's an ingredient if your body can't absorb it?
Their peptide ingredients have been modified so that they are delivered to your body in di- and tripeptide chains, which means they can pass through your cellular membranes easier, and be absorbed in your tissues quicker. Here are a few of the key ingredients in Proto Whey by BNRG along with their benefits to your body and your workout.
Micro peptides from extreme whey protein hydrolysate
Micro peptides are short chain peptides that can easily be absorbed in your body. Normally, proteins come in long chains of amino acids, but micro peptides have very short chains of amino acids. They may only be two or three amino acids long. These micro peptides are easily absorbed because they can cross cellular membranes quickly. Whey protein is derived from dairy products and is pure protein. Unlike dairy, whey protein is stripped of carbohydrates and fats, so that it only includes the purest forms of protein available. Proto Whey includes hydrolysed whey protein in their product as well, which only helps the product become more soluble in your body so that you can absorb it quicker, and gain the results you desire in less time.
MCT
Medium chain triglycerides (MCT), are fatty acids. They are readily absorbed by the body due to their small size, and have been shown to increase your metabolism, lower your overall blood glucose level, and spare any protein degradation in your body. For athletes and bodybuilders, this ingredient is gold. It will help you lose any unwanted fat you may have on your body, and keep your muscles strong and protected from degradation.
L-glutamine
L-glutamine is an amino acid that is found in all of your muscles. It is essential for muscle stretch, endurance and recovery. During an intense workout, your muscles utilize L-glutamine as a form of fuel, so your levels of this amino acid are depleted. By adding more L-glutamine to your body, you can keep its levels high in your bloodstream and muscles so that you have an increased level of strength, endurance, and so you recover quicker after your workout. Another key benefit of L-glutamine is that it increases your ability to produce Human Growth Hormone (HGH), which will in turn metabolise excess fat in your body and help you lose any unwanted fat so that you can create lean muscle.
DIRECTIONS
Mix two scoops with 250ml of water 30min to 60min before a workout and within 30 to 60min post training.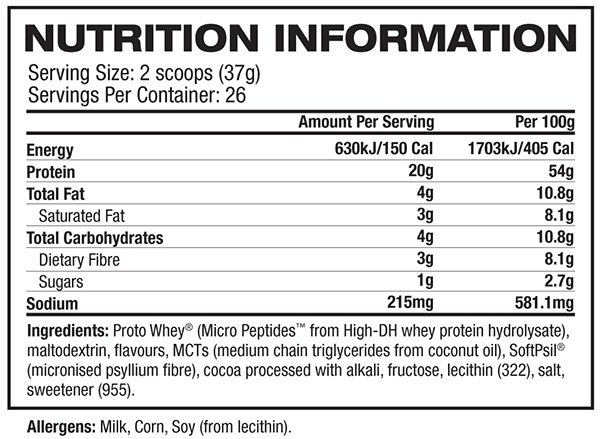 Customers who bought this product also bought:
Scivation
Free Shipping Australia Wide - Xtend BCAA by Scivation
Dymatize
Free Shipping Australia Wide - ISO 100 by Dymatize
Scivation
Free Shipping Australia Wide - Xtend Ripped by Scivation