MAX'S VAS-D PUMP'D is our powerful new Vasodilation/HyperHydration/Cognition-enhancing and formula designed to produce skin-bursting pumps, maximum energy and super motivation. You will lift more, lift longer, with razor focus, and build an awesome pump with veiny vascularity!
Maximise Nitric Oxide production
Increase blood flow and pump in working muscles
Hyperhydrate muscle cells for more power, size and endurance
Razor sharp focus and maximum motivation!
MAX'S LAB SERIES VASO-D PUMP'D is the most potent Nitric Oxide, Vasodilation specific product available on the market! Building off our original VASO-D formulation this next generation PUMP product delivers over 15% more active ingredients along with our Clarity, Focus and Cognition Blend for optimal mind/muscle connection through every rep of every set!
This all new STIM FREE formula includes COCOTEANOL. Cocoa contains theobromine, an alkaloid that stimulates the heart and the nervous system and acts as a vasodilator (widens blood vessels) and diuretic. Cocoa also lowers systolic blood pressure, while the antioxidants in green tea protect your heart from stress of intense workout, while stimulating your muscle metabolism.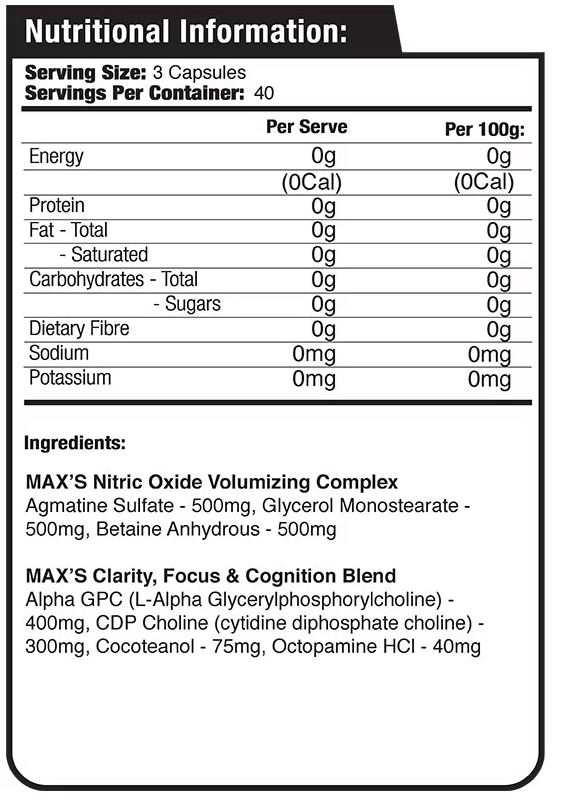 Customers who bought this product also bought: