Optimum Nutrition Gold Standard Whey 5lb
Best quality + best value = gold standard
Best Quality
Whey protein is popular with active adults because it digests rapidly and is a rich source of amino acids to support muscle recovery.* Whey protein isolates are the purest form of whey and the primary ingredient in Gold Standard 100% Whey. Each serving provides 24 grams of rapidly digesting whey protein with low levels of fat, cholesterol, lactose and other stuff you can do without. There's no doubt this is the standard all other proteins are measured against.
Best Value
Do the Math: Compare the Cost Per Serving to other protein powders and you'll realize the Gold Standard difference. It's easy to calculate. Just take the price of your protein product and divide it by the number of servings in the tub. That's how much protein you're getting for your dollar. Gold Standard 100% Whey provides ON's legendary quality with exceptional Cost Per Serving value.

BEYOND THE BASICS:
Packed with Whey Protein Isolates

Provides Whey Protein Microfractions

More than 5 Grams of BCAAs

Over 4 Grams of Glutamine & Glutamic Acid

Instantized to Mix with a Spoon
ON Gold Standard Pre 30 Serve
THIS PRE-WORKOUT IS AS GOOD AS GOLD
ON's new Gold Standard Pre-Workout unleashes amplified energy, focus, and supports enhanced endurance to help you reach the pinnacle of your game, crush your next set, get that last rep, and achieve some true gains.* Whatever your goals, accomplish them all with the pre-workout from the most trusted brand in sports nutrition.
Beyond The Basics
Banned Substance Free and Certified
"Informed-Choice, Trusted By Sport"
375 mg of Acetyl-L-Carnitine HCI
250 mg of N-Acetyl-L-Tyrosine
Muscle Matrix including 25 mg of AstraGIN
This formula raises the bar by providing you with only what you need to achieve your True Strength —made with select banned substance free ingredients, including caffeine from only natural sources (tea and coffee bean) to help dial in intense energy, mental alertness, and sharp focus before you hit the gym. Gold Standard Pre-Workout is also made with only premium ingredients including CarnoSyn Beta-Alanine, which supports your intramuscular buffering system to help you train harder, longer and German-engineered Creapure Creatine Monohydrate — one of the industry's most well-known providers of high purity creatine monohydrate.* Finally, the Gold Standard of pre-workouts includes L-Citrulline Malate — a precursor to Nitric Oxide (N.O.) synthesis and other ingredients such as AstraGIN and Acetyl-L-Carnitine HCI to round out this powerful formulation.
The Gold Standard of Flavors: ON has also raised the bar on flavor. Available in options such as Blueberry Lemonade, Watermelon, Green Apple, and Fruit Punch, Gold Standard Pre-Workout leaves all other pre-workouts behind on performance AND taste. You take your workouts and performance seriously. Don't settle for a second place product, get the legit pre-workout that's as GOOD AS GOLD!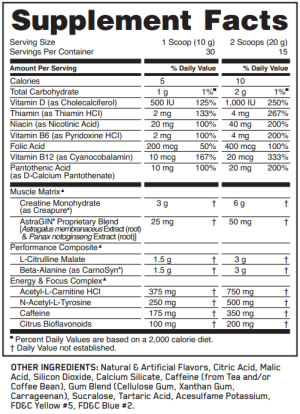 Customers who bought this product also bought: