Wake Up Bigger!
24g protein
Anabolic growth hormone complex
Calming herbs help your anabolic sleep cycles
Essential slow release proteins
TECHNICAL STUFF
The Science of Sleep
During sleep your nerves, muscles, bones, and immune system all recover from the stresses of daily life and undergo repair, restoration and growth (in a process called anabolism – the metabolic activities that build new cells). This restoration process occurs at specific times during your sleep cycle. When you sleep you go through 5 sleep stages:
Stage 1: The lightest stage occurs as you start falling asleep and lasts about 5 – 10 minutes
Stage 2: Still light sleep lasting about 30 minutes but transitions you towards a deeper sleep
Stages 3 – 4: During these stages you move into deep sleep or slow wave sleep lasting between 10 and 30 minutes where brain activity decreases and your body begins restoring itself mentally and physically.
Stage 5: REM or Rapid Eye Movement Sleep, where you brain becomes more active and you dream. REM sleep can last from 5 minutes anywhere up to an hour and your body and mind continue to replenish their reserves through this stage.
During a night's sleep your body will cycle through stages 3, 4 and 5 several times, and it is these stages where you are properly rested and most muscle growth occurs. The quality of sleep during these stages has a direct impact on the amount of muscle you will build. More good quality stage 3, 4 and 5 sleep means greater muscle gains, but only if you have a ready supply of protein in your system.
Slow Release Proteins are Essential
To maximize your growth potential you need a steady supply of amino acids and small peptides all night that your body can use to repair and build your muscles. This can only come from proteins that are slow releasing like red meat or chicken because fast releasing proteins (like WPI) only stay in your system for a few hours. But there is a catch. You can't eat a big meal that's hard to digest before bed because it will disrupt your stage 3 & 4 sleep cycles and inhibit muscle growth. That's why MAX'S Anabolic Night is ideal because it contains medium and slow release proteins that won't overload your system or disrupt sleep. MAX'S Anabolic Night is formulated to promote peaceful sleep right through the Stage 3, 4 & 5 sleep cycles so you recover fully and grow as much muscle as possible. Our Sustained Release Protein Blend contains:
To complement our Protein Blend MAX'S Anabolic Night also contains:
Anabolic Growth Hormone Complex – Your natural Growth Hormone levels peak during sleep, however you can further boost levels with the right nutrient mix before bed. Multiple studies have identified L-Arginine, Ornithine, L-Glutamine and Lysine as Growth Hormone stimulators because of their ability to enhance the natural release of Human Growth Hormone.
Calming Herbs
Two natural herbs, Skullcap and Chamomile, are added to MAX'S Nitetime GH to help you sleep well and maximize your anabolic sleep cycles. Both herbs are widely used to promote calmness, reduce anxiety and induce sleep without side effects.
Vitamins and Minerals
These micronutrients are vital components of all muscle building biochemistry and are included to ensure optimal recovery and growth during sleep.
Suitable For – MAX'S Anabolic Night is suitable for all levels of trainers is designed for trainers and athletes who want to maximise recovery and muscle growth during sleep. It can be used on a fat shredding, mass building or muscle maintenance program.
Recommended Usage – Take 1 serve about 30 minutes before bed. For a fat stripping program add one scoop to a blender or shaker with 200 – 250 ml of water and mix for 20 seconds until completely dispersed. For a mass building program add 1 – 2 scoops in 500ml of milk.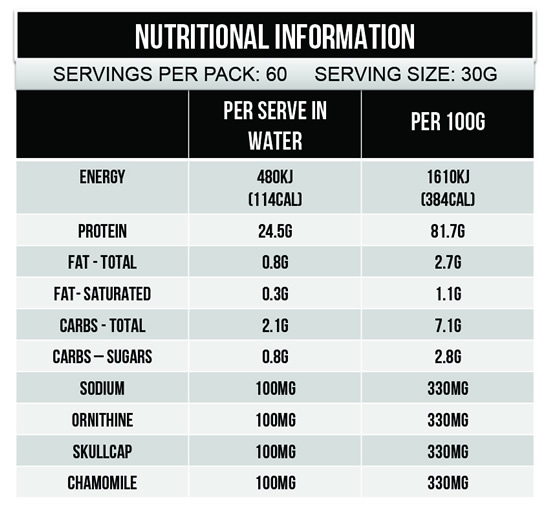 Customers who bought this product also bought: