Xtreme Mass 6kg + Creatine + KOS

Xtreme Mass Gain 6Kg (2 X 3Kg Bag)
Top Quality
we proudly manufacture our products Made In Australia from Quality Australian Local and Imported Ingredients, under the standard of Quality Assurance Food Safety Program controlled by:
AS/NZS ISO9001:2008 Certification
HACCP / CODEX ALIMENTARIUS CAC/RCP 1-1969 Certification
NSW Food Authority Dairy License
DAFF / AQIS Export Registered Establishment License
Halal Accreditation License
Under these licenses we test our products, processing environments and water through independent laboratory holding NATA Certification.
Product Info
Tack on size and strength in fast time with Giant Mass. Specially formulated for the athlete who struggles to put on and maintain weight. This protein and nutrient dense supplement offers a balanced muscle food formula. 
A premium blend of Hydrolysed Whey Peptide Isolate and Instantised Whey Concentrate in a generous dose facilitates a more sustained protein delivery for improved nitrogen balance and an environment for constant gains in mass and performance. 
It is also loaded with all the essential vitamins and minerals necessary to support rapid gains in bodyweight.
Low fat formulated & loaded with branched chain amino acids
60 grams of carbs per serve to maximise gains
Targets rapid size and strength gains
Ideal for hard-gainers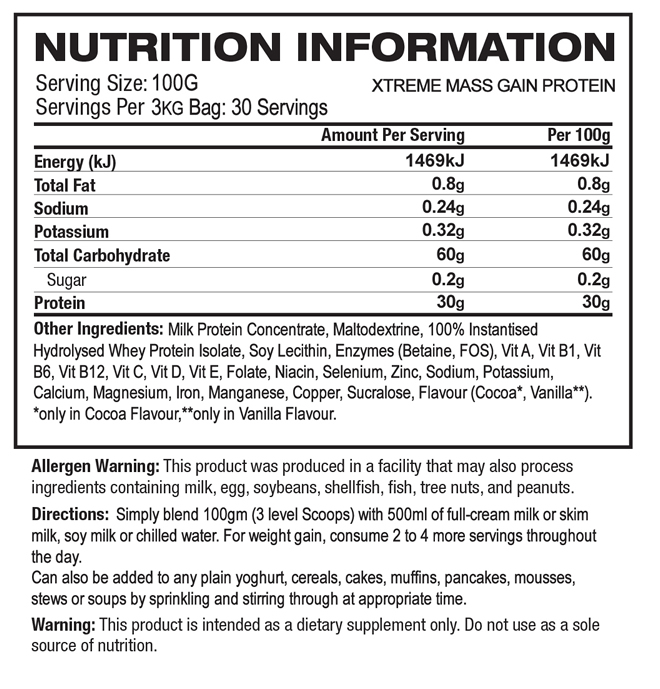 K-OS PRE-WORKOUT BOOST
The synergistic ingredients in K-OS EFX not only deliver increased intensity and focus to your workouts but improve muscle growth and recovery. This is achieved by a neutralising free radical complex of Vitamin C, L-Taurine and Red Wine extracts facilitating overall well being and recuperation, resulting in improved muscle gain and recovery.
K-OS combines GPLC with powerful Anabolic Facilitators, Ergogenic Optimisers and Free Radical Neutralisers resulting in the ultimate pre-training supplement.
WHY'S IT SO SPECIAL: WHAT SETS IT APART
This ground breaking formula utilises an advanced complex of pre-workout ingredients that include Beta-Alanine, Creatine, Arginine, Carnitine and Free Radical Neutralisers to promote unrivalled gains in exercise performance.
K-OS EFX utilises ergogenic facilitators, CNS and PNS augmentors, powerful anabolic agents and Nitric Oxide fuelled pumps to create the ultimate pre-training supplement.
Nutrition information 
Customers who bought this product also bought: